New Surgical Centre For Musgrove Park
28 March 2018, 08:39 | Updated: 28 March 2018, 12:26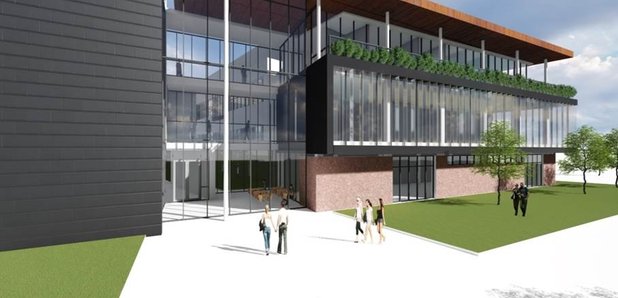 Musgrove Park Hospital is to get a new £79.5m surgical centre.
New state-of-the-art operating theatres, critical care unit and endoscopy suite will replace much of Musgrove's ageing 1940s buildings that currently provide care for some of the most critically ill patients in Somerset.
The new building will be in a central location on the hospital site, close to other clinical services.
Dr Stuart Walker, chief medical officer at Musgrove Park Hospital, said:
"We are absolutely delighted that our hospital has this support to develop a new surgical centre, which will include new theatres and critical care unit. For our patients and the people of Somerset, it means they will have access to modern, state of the art facilities, that are fit for the future.
"Over very many years, our staff have been performing surgery and providing intensive care in buildings that date back to Musgrove's wartime history as an American military hospital. These buildings were never intended to be permanent and it is a tribute to our staff that they continue to offer such high quality, safe care despite their surroundings.
"We are all excited to be embarking on this new phase. We know how important it is to our local population, and staff, that they have the best possible hospital facilities in which to provide excellent care. The new theatres and critical care facilities will provide such an upgrade to Musgrove Park Hospital, for the benefit of our community."
The original hospital was built during the Second World War as a temporary casualty evacuation hospital for the D-Day landings, but has become increasingly difficult to maintain.
It is expected that the first patients will be cared for in the new surgical centre by the end of 2023.
The news has been welcomed by Rebecca Pow, MP for Taunton Deane; ''I am thrilled that Musgrove Park Hospital's bid for funding for a new Surgical Centre has been successful. This has been very much a joint effort between myself and Musgrove and I am delighted that the hard work has paid off. This new facility will serve not just people from Taunton Deane but from the whole Somerset area and indeed the wider SW region. My petition showed huge support from so many across Taunton Deane, demonstrating the strength of feeling locally for this much needed project and I am so proud that this important project has been allocated this welcome Government funding.''