Somerset Mum Walks Free From Court
24 June 2015, 14:16 | Updated: 24 June 2015, 14:35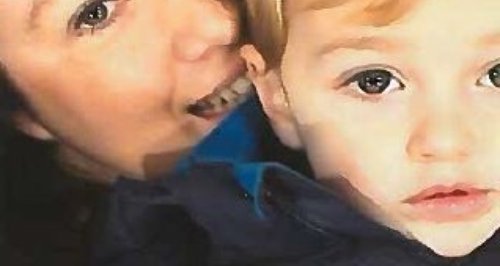 Rebecca Minnock, the Somerset woman who went on the run with her 3 year old son after losing a custody battle, will not face charges of breaching court orders after her the boy's father dropped legal proceedings against her.
35 year old Rebecca fled her home in Highbridge with son Ethan on May 27, after a judge ruled he should live with father Roger Williams.

She contacted police and came forward with Ethan in Oxford on June 12 following appeals from police, a High Court judge and family members. Ethan was handed to his father, who lives in Burnham-on-Sea, and has since had one hour of supervised contact with his mother.

Last week, Mr Williams indicated that he wished to pursue Miss Minnock for breaching 10 court orders made during the custody battle for Ethan. But his barrister told Judge Stephen Wildblood QC, sitting at Bristol Magistrates' Court, that he wished to drop the application and "draw a line''. Representing Williams, Rupert Chapman told the court:
"I have taken some instruction from my client. Subsequent to certain observations he would wish me to make, I do have instructions to seek to withdraw the application for committal. My client observes that this is a case which has been characterised by a long history of breaches of court orders at multiple stages of proceedings by the respondent, the mother Miss Minnock.
He does feel that it is important that the mother understands that any future breaches will be met by an application of this sort. In view of the fact Ethan has been returned home to his care, and that he is happy and settled at home and contact has been started my client wishes to draw a line under the previous breaches.''
In a damning judgement handed down to Miss Minnock, Judge Wildblood said:
"Parents who flout court orders are the scourge of the system. It is only the mercy of the father that spares this mother. Had the contempt proceedings continued before me and led to a finding of contempt I make no concealment of the fact that I would have sentenced her to immediate imprisonment which I anticipate would have involved a sentence of at least 28 days in prison.
As it is, I think that the father's wishes should be respected. He and Ethan are the victims of this mother's actions and I consider that the father's voice should prevail.
She owes her liberty to him. She must never fail to comply with court orders again; they will be my orders in the future, as I will now be the judge of these proceedings subject to the direction of any higher court.''

The Judge commended Mr Williams for acting with "extreme sensitivity'' and said he had kept "the pain, frustration and distress that he must have been feeling to himself''. He went on to say:

"However, the public knowledge of this case has come at a price. Mr Williams now wishes to end the public displays of the difficulties that affect Ethan's upbringing and wishes the remaining disputes to be heard away from the glare of publicity. If the committal application is continued, he feels that there will be a dramatic increase in the emotional focus that has been directed to him, Ethan and the family as a whole.
He wishes that to stop and that is why he does not wish to pursue this application. Once again I commend him for his decision. His decision is, in my opinion, a strong and commendable display of parental responsibility and is plainly based on the best interests of Ethan. He does not wish Ethan to be exposed to the continuing publicity that Ms Minnock has caused.''

Ethan's guardian, Tara Bolton, and his solicitor have also indicated they will not initiate any contempt proceedings on behalf of Ethan.

The judge said any suggestion that Miss Minnock was "driven into a corner'' and "had no alternative'' but to flee was without any foundation. He added:

"I have previously described Ms Minnock's actions in making off with Ethan as 'utterly irresponsible'. I adhere to those words. It would be patently wrong to suggest that Ms Minnock was so overpowered by protective maternal instinct that she was driven to behave in the way that she did. Her behaviour was manipulative, attention seeking and truculent. It caused immense distress to many. It caused a very large amount of public money to be wasted.''
Further court hearings will take place in relation to the custody battle but these will be held in private.