Taunton: Teenager Claims Racial Abuse
29 October 2014, 11:50 | Updated: 29 October 2014, 12:54
CCTV images have been released, as police in Taunton investigate an alleged physical and racial attack on a 19-year-old man, who they say was repeatedly kicked.
Officers want to speak to two men pictured.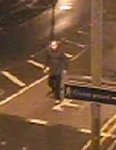 Police say the victim was attacked in Station Road outside Taunton Dry Cleaning about 4am on Sunday 19th October, after getting into a scuffle with a group of two men and one women.
He was with two other men at the time.
But police say that after chasing one of the victim's group towards the railway station, the two men returned to the scene of the original scuffle where they found the 19 year old and attacked him.
During the first scuffle, one of the suspects removed his white jacket to reveal a pink t-shirt, which he is also pictured in.



Investigating officer PC Robert Dibble said:
"What I am looking for now is identification of these two men seen in the area at the time who may be responsible for a particularly nasty attack."

Anyone with information is asked to call Taunton police on 101 quoting reference number 108664/14.