Portsmouth City Centre Sparkler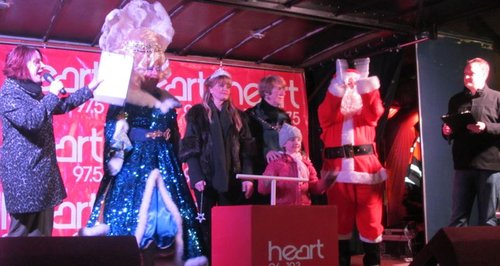 On Thursday,November 17th join Rich from Heart Breakfast's for the Portsmouth City Centre Sparkler! Come along and experience the Christmas Light Switch on Market and Christmas Grotto inside Cascades.
Then join us on stage at 4pm, when we bring you a showcase of some of Portsmouth's home-grown talent including
Timestep School of Dance
Portchester Youth Theatre
Abstract Dance and Performing Arts
The News Instant Star Winner 2016
Same Difference Pop Academy
Giselle School of Dance
Streetforce DC
Sway Dance
South Zone Dance Academy
Sean Smith
Prince Amir and Nazreddin the camel
At 5:30pm Rich from Heart Breakfast will welcome on stage the Lord Mayor of Portsmouth, Santa, and stars of the Kings Theatre pants Jack and the Beanstalk to help turn on the city centre lights.
The fun then continues right on through to 6:30pm, when we look to light up the Portsmouth sky with a dazzling firework finale.
On November 17th - 24th of December check out the Portsmouth City Centre Bavarian Christmas Market.
In amongst the pretty cabins, decorated in festive Christmas lights, you can come and browse some of the offers they have on sale ranging from stocking fillers and presents, through to speciality gifts and presents such as personalised Christmas tree decorations and Santa stockings.
And once you've found those special gifts and treats for loved ones and friends, and have shopped until you've dropped, why not then have a break and take some time to refuel with a Bratwurst from the Bavarian sausage grill.
Or simply meet up with some friends and shelter from the bleak midwinter over a warming cup of Gluwein.
Open daily from 10am until 6pm.
Inside Cascades Shopping Centre visit Santa's Grotto from November 17th check Cascades website for booking and opening times. Plus, enjoy late night shopping from November 17th.