A31 Cleared After Drivers Stranded Overnight
2 March 2018, 13:05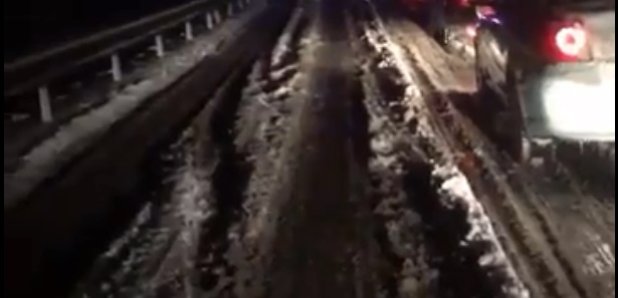 The A31 in Hampshire is open, after hundreds of drivers were stuck there all night due to the snow.
Police declared it a major incident and called in the military to help.
The emergency services and volunteers handed out food and drinks to those stuck.
Rest centres were set up with vulnerable people taken there.
Police say both carriageways of the A31 are moving again but they're still trying to recover the last few abandoned cars.
People are still being told to avoid the area and not drive at all if possible.
Hampshire Police said:
'The A31 is moving again this morning following a major incident caused by heavy traffic and adverse weather conditions on the road last night.
'However we would encourage drivers to avoid the area while we assist with the recovery of any remaining abandoned vehicles.
'If your car is abandoned on the A31 please call us on 101 and we will advise the best course of action. Officers are patrolling the main carriageway and side roads to offer assistance to drivers.
'Hampshire Constabulary has been part of a multi-agency response with all our partners, including the military, who were with us at our Command suite and working alongside us throughout the night.
'We have also had support from our team of volunteers, people with 4x4 vehicles, tractor owners and others who have been so important and we would like to thank them for their help.'
Drivers stranded have thanked locals for helping with food and drinks.
(Main pic from driver Francesca Goodhall - who took 12 hours to get home to Bournemouth)