Amanda Holden Opens Arts Centre At Hampshire School
10 May 2018, 12:36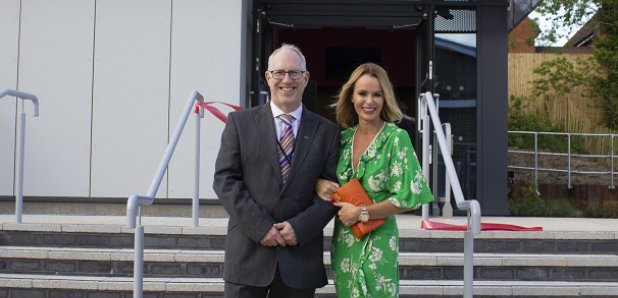 Amanda Holden's been back to her former Hampshire school, to open its new £1 million Performing Arts Building.
The Britain's Got Talent judge cut the ribbon and had a tour at Swanmore College near Winchester earlier this week.
Amanda was the Special Guest at the Grand Opening. She attended Swanmore College during the 1980s and was given a personal tour of the school with Headteacher, Mr Kyle Jonathan.
The £1 million project, in conjunction with Hampshire County Council and contractors Neillcott Construction Group, will provide Swanmore College with a much needed performing arts facility which can be used and enjoyed by the whole college community.
At this prestigious event, the audience, which included Amanda and her husband Chris Hughes, were treated to "a showcase of talent" from pupils past and present. A talent rich production which included singing, dancing and acting from more than 50 pupils.
Headteacher Mr Jonathan said:
"It was an absolute pleasure to welcome Amanda back to her old school and to show her how much it has changed over the years. We are very proud of Amanda and Swanmore College has always taken a keen interest in the career of our former pupil.
"Amanda is an inspiration to our pupils. She very generously waived her fee so, in return, the College was delighted to make a charitable donation on her behalf."