CCTV After Southampton Garage Robbery
17 March 2017, 12:43 | Updated: 17 March 2017, 12:48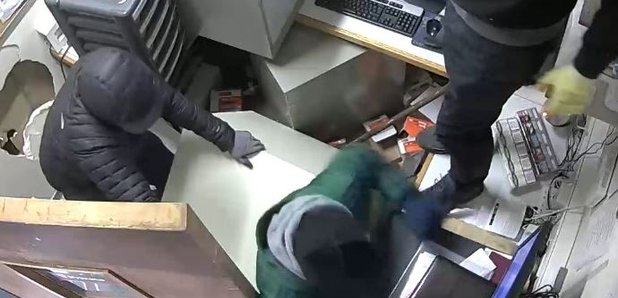 Police have now released CCTV images of a robbery in Southampton that saw a safe containing thousands of pounds stolen.
Four people went into the Shell garage on Redbridge Road in the early hours of last Tuesday morning.
Cigarettes were also taken, between 2am and 2.45am.
The group left in a dark-coloured Audi 5-door estate with a partial registration of 'X386 N.'
Hampshire Police said:
'We appealed for witnesses at the time of offence as the Shell garage was closed whilst officers forensically examined the scene.
'We would now like to further our appeal for information.'
The four men are described as:
Suspect 1: White, 24-years-old, 6"1, medium build, wearing a hat, black tracksuit and garden gloves and a grey mask which covered his nose and mouth.
Suspect 2: White, early 20s, 5"11 or 6", slim build, wearing a black, zip-up hoody with hood pulled down covering his face.
Suspect 3: White, 24-years-old, 5"11, slim build, wearing a beanie hat, blue denim jeans, black top and a mask covering his face.
Suspect 4: White, 24 to 25-years-old, 5"8, slim build, blue eyes, wearing a dark-coloured baseball cap, a green zipped-up quilted jacket and dark blue denim jeans. He was also wearing a mask that covered his nose and mouth.
Detective Constable Paddy Coughlin from the Western Investigation Team said:
"We would like to hear from anyone who may have witnessed this incident or saw the vehicle described earlier in the evening on Monday into Tuesday.
"Furthermore, do you recognise the clothing these men are wearing or have you been offered the sale of cigarettes in suspicious circumstances recently?
"Please get in contact, in confidence, by calling 101 and quoting 44170085271."