Croydon Cat Killer "Was Foxes"
20 September 2018, 16:56 | Updated: 20 September 2018, 17:03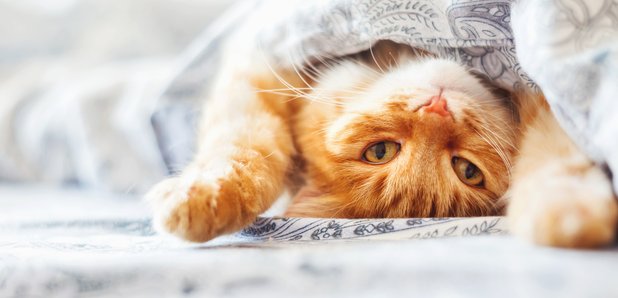 Police say foxes are thought to have been behind the a serious of cat killings across several counties, bringing a three-year investigation to a close.
Hundreds of cats are reported to have been mutilated across the south London borough since November 2015, prompting fears a serial killer was on the loose.
There were also cases in other counties including Hampshire, Berkshire and Oxfordshire - and even on the Isle of Wight.
Some reported finding animals decapitated, while others had their tails docked.
But Scotland Yard said there was "no evidence that any of the cats had been killed by a human".
Croydon-educated actor Martin Clunes was among those to weigh in on the mystery, writing a letter to detectives urging them to catch the culprit
He wrote in February 2016: "I read with horror that some of the cats had been decapitated and dismembered - this is the stuff of nightmares.
"The local community is understandably distraught and frightened. No-one feels safe while this sick individual is on the loose."
Police said the post-mortem examinations on an initial 25 cats found they succumbed to a blunt force trauma, such as being run over. Their bodies were said to have been mutilated after death.
Six cases were deemed to be suspicious and required further investigation, during which another 400 reports of cat mutilations were collated in and around London.
A Scotland Yard statement said: "The investigation took almost three years, due to the number of reports and allegations received from the public and the need to work with specialists to scrutinise any evidence.
"No evidence of human involvement was found in any of the reported cases. There were no witnesses, no identifiable patterns and no forensic leads that pointed to human involvement. Witness statements were taken, but no suspect was identified."
In three cases, CCTV footage showed foxes carrying cats' lifeless bodies in their jaws.
The Met said it "took note of expert opinion" which highlighted how wildlife can be known to scavenge on roadkill, often removing limbs before dumping the corpse.
Detectives announced on Thursday that there is no evidence of human involvement. All of the cases of cat mutilation will be recorded as "no crime".
Chief Inspector Stuart Orton, who led the investigation in Hertfordshire, said: "By working closely with forensic experts, partners and colleagues, we have been able to eliminate the hypothesis that a person or persons were travelling the county and mutilating animals on a serial basis.
"As explained by our colleagues in the Metropolitan Police, the evidence suggests that the animals had been predated by foxes - in a rabbit's case after being removed from a hutch, and in a cat's case after death, likely caused by a road traffic collision.
"I hope this conclusion brings comfort to pet owners who have, up until now, been frightened to let their animals out at night."