Dorset RNLI Summer Beach Patrols End
1 October 2017, 06:29 | Updated: 1 October 2017, 10:19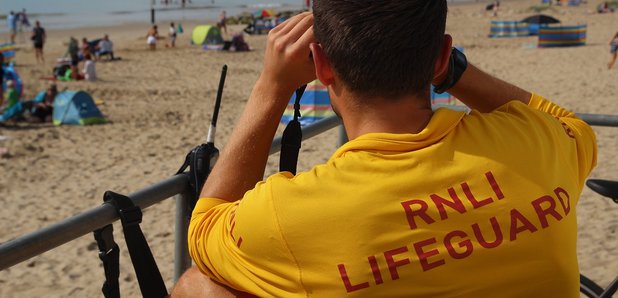 Thirteen beaches in Dorset will lower their flags and pack their equipment away for the final time at 6pm on Sunday (1 October) as the RNLI lifeguard season officially ends.
There have been a number of visitors to Dorset beaches during the summer meaning a busy season for the RNLI lifeguard team. Incidents responded to by RNLI lifeguards in Dorset this season included the successful rescue of a woman stuck by the rock groynes at Sandbanks and the rescue of a teenager who got into difficulty swimming at Weymouth beach.
Now members of the public are being encouraged to take extra care and consider their safety on the beaches after Sunday's season end.
Mike Winter, RNLI Lifeguard Supervisor, says: 'It has been a very busy season for our lifeguards; we have seen huge numbers of people coming to beaches in Dorset over the summer.
'Each year RNLI lifeguards deal with a whole range of things, from sea rescues, to first aid incidents and lost children. Our lifeguards have worked really hard and have once again done a fantastic job of keeping people safe at the coast this summer. They have shown commitment and dedication to both their ongoing training and their work on the beaches.
'The majority of our lifeguards' work is preventative so as well as the rescues and incidents they were involved in, they will have stopped many more potentially dangerous incidents before they occurred.
'Autumn will see bigger swell around the coast. People walking on the coast should always check the tide times before setting out and carry a means of communication. The bigger swells mean more unpredictable rip currents in the water so people should take extra care. Anyone in difficulty in the water should try not to panic or fight against any currents, hold onto anything buoyant they have, call for help and raise their hand to attract attention and try to keep their head above water.
'Once the lifeguard season has come to an end people visiting the beaches can help keep themselves safe by taking note of the safety signage at the entrance to the beach, going with a friend or telling someone on the shore where they are going, and always being aware of the conditions and their own capabilities in the water.'
The RNLI's advice is not to enter the water if you see someone in trouble but rather to call 999 and ask for the coastguard. A host of information and advice on various aspects of water safety is available here