Drop In Assaults As Hampshire Police Wear Cameras
5 March 2015, 11:04 | Updated: 5 March 2015, 11:16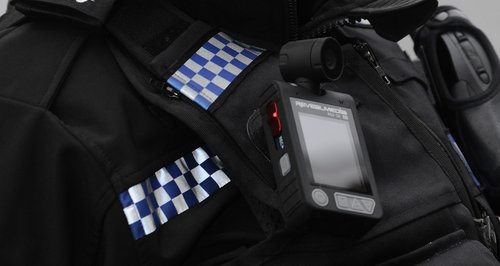 A study's found an 18 per cent drop in assault and public order offences since Hampshire Police introduced body-worn video cameras.
Researchers from Portsmouth University's Institute of Criminal Justice Studies have conducted the first independent evaluation on the impact of personal-issue BWV video cameras (attached to the chest of police officers).

The research was commissioned by Hampshire Constabulary, the first UK force to have made the cameras standard personal-issue for all frontline police officers and PCSOs in one of their districts, the Isle of Wight. Approximately 160 cameras were issued with support from the force's Body-Worn Video (BWV) supplier, Reveal Media, as part of Operation Hyperion.
The Operation Hyperion report found that public order and assault crimes dropped by 18 per cent, from just over 1,700 to 1,400 in the year that police were wearing cameras. It also found that assaults on police went down by a third.
500 more BWV cameras will be rolled out to frontline officers in Hampshire over the next three months and will also be evaluated by the University of Portsmouth.

Funding from the Office of the Police and Crime Commissioner (OPCC) and Home Office will take the numbers of Body-Worn Video (BWV) cameras across the whole of Hampshire and the Isle of Wight from 500 to 2,800 over the next year. These will also be evaluated by the University of Portsmouth, and the next 500 cameras will be issued over the next three months.

Simon Hayes, Police and Crime Commissioner for Hampshire said:

"The University of Portsmouth's report on the use of Body Worn Video (BWV) on the Isle of Wight provides irrefutable evidence and compelling support for the investment I have made in this technology in Hampshire and the Isle of Wight. Soon every Hampshire Constabulary police officer and PCSO will be issued with BWV.

"This report identifies clear benefits to victims of crime, plus officers, and should be of some reassurance to society as a whole. In particular, outcomes for victims of domestic abuse on the Island appear to have been significantly improved as a result of evidence captured through BWV."

Hampshire Constabulary Chief Constable Andy Marsh said:

"I welcome this report. It underlines that the criminal justice system needs to modernise. We are working incredibly hard to be a world leader in digital policing, but it is crucial that we make sure that any new technology delivers real benefits for the public.

"This report shows Body-Worn Video (BWV) has brought benefits to how we police the Isle of Wight. I'd like to thank the University of Portsmouth for its expertise and evaluation, which shows the huge potential of new technology to improve how we put victims at the heart of everything we do.

"As well as introducing more of these cameras we need to continue to build public trust in this technology. This is crucial if we are to achieve the vision of a digitised criminal justice system which makes full use of Body-Worn Video evidence."

Lead researcher Tom Ellis said:

"This research is the first of its kind ever carried out in the UK to analyse whether police wearing personal issue cameras has an impact on crime and anti-social behaviour, complaints against police and early guilty pleas.

"The impact the cameras had on public order and assault was quite impressive – a sure sign that they are extremely effective at reducing certain types of crime. The research indicates that the cameras could have an impact on around 30% of incidents reported to the Isle of Wight police.

"Hampshire Constabulary was ahead of the game when they started using this technology for all IoW officers and ensuring it was independently evaluated."

The cameras were issued to all officers on the Isle of Wight on 1 July 2013. The study evaluates the year prior to the issue of BWVs and the year after.

Inspector Steve Goodier of Hampshire Constabulary, has just been to the United States to present the findings to the U.S. Justice Department's Taskforce on 21st Century Policing, with a heavy emphasis on rolling out BWVs to all US police officers. It was set up by President Obama in the wake of Ferguson and other police shootings.

He said:
"There have been plenty of indications that BWV cameras are effective but this is the first detailed evaluation to demonstrate the impact of personal issue to every officer on a number of fronts".

"It's really encouraging to see such a drastic reduction in assaults on officers. Body-Worn Video is about more transparent policing and was introduced not just for the safety of officers, but for the safety of the public too."

The results also showed an increase in prosecutions and convictions in cases of domestic assault. It indicates that police and the Crown Prosecution Service (CPS) can proceed in some cases without the need for the victims to testify because the footage is so convincing.

Tom Ellis said: "Using BWV footage to record domestic assaults is a powerful way of securing evidence early in an investigation without victims having to take part in the prosecution process."

The study also explored public perceptions of police using cameras. Findings showed that a high percentage of IoW residents believed BWV technology would help the police to be more efficient.

Mr Ellis said: "Over 90 per cent of people who took part in the survey believed that cameras would help gather evidence, help identify criminals and increase the likelihood of conviction."

An equivalent survey of Hampshire Constabulary staff also identified similar beliefs to those of the public with frontline officers believing the cameras offer significant benefits in terms of crime reduction, resolving complaints, and enhancing evidence gathering.

The results of this evaluation will help inform the overall body of evidence on whether BWV technology can make a difference to transparency, evidence gathering and public confidence in policing.

Read the full report here.