Duchess Of Cambridge In Portsmouth
20 May 2016, 15:18 | Updated: 20 May 2016, 16:21
The Duchess of Cambridge took the helm of a racing yacht for a thrilling high-speed ride with Olympic legend Sir Ben Ainslie in the solent.
Kate donned safety gear including a helmet and lifejacket to join the multiple gold medal-winner aboard his 45ft catamaran T1 for a training circuit in the Solent.
Earlier she had wowed as she recycled a sleek nautical-themed Alexander McQueen outfit for her visit to the Land Rover BAR racing team in nearby Portsmouth.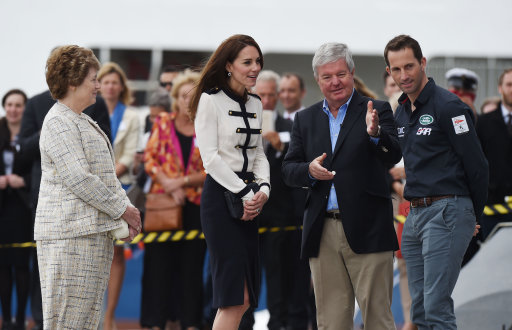 She previously wore the outfit on a June 2014 visit to Bletchley Park. It was the third time that the duchess has visited the BAR (Ben Ainslie Racing) base, having dropped by before the centre was opened and again during the first round of the America's Cup World Series which was held in the city last July before being cut short by heavy winds and rain.
Crowds gathered to watch as the duchess was transferred on to the catamaran - a trial model as the team develops its racing vessel - for the hour-long trip from Portsmouth Harbour to near the Isle of Wight.
Kate, a keen sailor, could be seen helping with the rigging as the catamaran was preparing to sail before she took the controls, the role normally taken by skipper Sir Ben.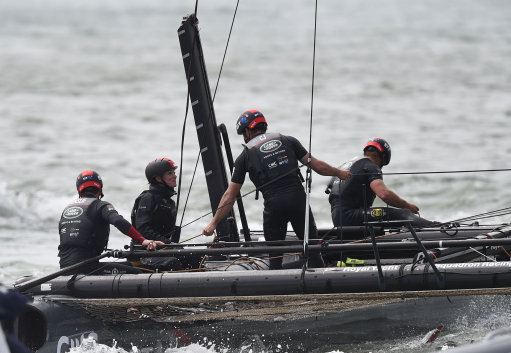 As the catamaran reached a top speed of 34 knots, the catamaran first of all raised up on to one of the hulls before rising up into the air where it skimmed along with both hulls in the air and only the foils remaining in the water.
The support vessels struggled to keep up with the catamaran as it flew over the choppy water as it headed back to Portsmouth from the Island.
Kate and her team of four professional sailors, including Sir Ben, carried out three loops of the route before heading back to base.