Ex-Police Dog To Sniff Out Southern Water Sewage Blockages
24 November 2014, 13:13 | Updated: 24 November 2014, 13:17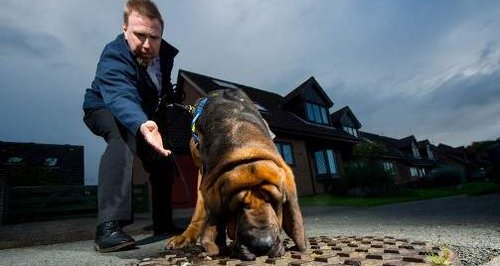 An ex-police dog's been brought in to help check for blockages in sewers across Hampshire, Sussex, Kent and the Isle of Wight.
Hector the bloodhound has swapped a life of crime for one of grime by being trained to detect blockages on Southern Water's 25,000-mile (40,000km) network of sewers.

The company, which serves Hampshire and the Isle of Wight, Sussex and Kent, hopes to deploy Hector to sniff out problem areas through air gaps at ground level.

His nose has 1,000 times more scent receptors than a human's, and it is hoped he can be used to find some of the 17,000 blockages caused each year by fat, oil, grease and wet wipes.

Hector's owner, ex-police dog handler Steve Williams, is one of Southern Water's so-called ``fat detectives'' - three former policemen now employed as network protection and enforcement officers.

Mr Williams ensures that the firm's commercial customers, including restaurants and takeaways, understand the problems caused by fat, oil and grease, and install and maintain grease traps.

The 50-year-old, from Hailsham, East Sussex, said:
``We use CCTV, sonar surveys and all manner of hi-tech kit to search for blockages but as far as I know we've never used a bloodhound, so I thought I'd give it a go.

``I've had Hector since he was eight weeks old and we worked together for Sussex Police for five years before he retired.

``Together we've searched for missing children and OAPs and numerous criminals on the run, but now we're fighting grime instead of crime and on the hunt for fat, oil and grease.''

Cooking oils and fats solidify as they cool, causing blockages in customers' pipes and the sewers, which can lead to wastewater flooding into streets, gardens and homes.

A spokesman for Southern Water, which has launched its Pain In The Drain campaign, said the ultimate sanction for commercial customers who misuse the sewers is prosecution.