Exhausted Swimming Dog Rescued Off Isle Of Wight
3 June 2018, 10:10 | Updated: 3 June 2018, 10:14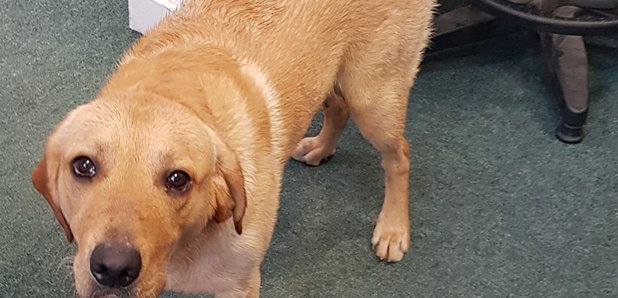 Wightlink staff at Ryde Pier have saved an exhausted dog spotted swimming half a mile out to sea near the end of the pier at 7 this morning (June 3).
Scott Harvey, Mike Parsons and Dave Prangnell coaxed the struggling labrador round the back of the pier. Mike grabbed him by the scruff of his neck and pulled him up the steps at the rear of the Costa Coffee shop.
Bertie quickly recovered from his ordeal in the ticket office and staff looked after him until his owner could be traced through social media.
"You don't expect to see a dog in the sea early on a Sunday morning, it was lucky we found him and got him out when we did," says Scott Harvey. "We gave him a few biscuits, he ran round the ticket office for a bit, then fell asleep."
Rob Gale from Ryde owns Bertie.
He says: "I was out cockling on Ryde beach first thing this morning when Bertie ran off. He's only nine months old, he was chasing seagulls and ran into the water. I was whistling for him but under the pier sounds echo around. He couldn't work out where I was and just kept on swimming.
"The guys at Wightlink were wonderful to get him out, they had to form a human chain to reach him. I think he might have drowned if they hadn't got him."
Customer Jae Henderson made the discovery:
"I was waiting for my ferry and heard this strange noise coming from under the pier. I was amazed to see a dog swimming a long way from shore. The guys at Wightlink did a great job to get him out and I'm pleased the story has a happy ending."