Gang Jailed For £3m Jewellers Burglaries
20 March 2017, 08:09 | Updated: 20 March 2017, 08:14
A Romanian gang have been jailed for a combined 47 years for a series of high value burglaries from jewellers - including in Portsmouth.
They targeted Ernest Jones in Cascades last July, making off with £57,000 worth of watches.
The burglaries covered nine counties with a total of £3 million worth of items stolen.
The six were sentenced at Stoke-on-Trent Crown Court for the offences, including a £400,000 raid on Beaverbrooks in Hanley, Stoke-on-Trent, which were committed between November 2015 and September 2016.
Jewellery, including watches, rings, necklaces and other items were stolen from branches of Beaverbrooks, Fraser Hart, Goldsmiths and independent jewellers in a series of 11 raids described as 'meticulously planned' by the detective running the investigation.
Five men received the following sentences for conspiring to commit burglaries:
- Bogdan Costel Neagu, aged 24, of no fixed address, sentenced to eight years two months.
- Ioan Bucuresteanu, aged 24, of no fixed address, sentenced to eight years.
- Vasile Daniel Cardos, aged 26, of Halesowen Street, Rowley Regis, West Midlands, sentenced to eight years two months.
- Silvu Ioan Acatrinei, aged 20, no fixed address, sentenced to eight years two months.
- Andrei Florin Tifui, aged 28, of no fixed address, sentenced to eight years two months.
- Ioachim Karp, aged 19, of no fixed address, was sentenced to six years six months for aggravated burglary and conspiracy.
Detective Chief Inspector Ricky Fields, of Staffordshire Police's Force Safeguarding and Investigation (North), became involved in the investigation after a branch of Beaverbrooks was raided in the early hours of 10 March, 2016 in Hanley, Stoke-on-Trent.
A total of £400,000 worth of watches were stolen during the break-in. Sledgehammers were used to gain entry to the shop and a fire was also set to hamper the efforts of emergency services.
DCI Fields said the group had set fire to cars and car tyres, as well as property as a distraction and also tied industrial cables across roads to block routes to emergency services in many of their burglaries.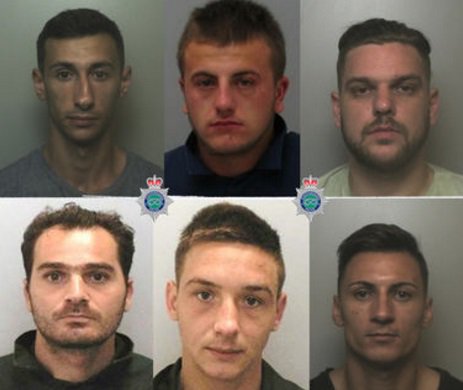 The investigating team from Staffordshire Police linked up with officers from several other Forces after it was established that raids had also taken place at the following locations:
- 21 November 2015 - Fraser Hart, Milton Keynes
- 31 December 2015 - Goldsmiths, Oxford
- 9 February 2016 - Chris Shan Jewellers, Lancashire
- 10 March 2016 - Beaverbrooks, Stoke-on-Trent
- 7 April 2016 - Beaverbrooks, Basingstoke, Hampshire
- 20 June 2016 - Breitling store, Bluewater, Kent
- 26 July 2016 - Ernest Jones, Portsmouth
- 5 August 2016 - Montblanc, Bicester Village, Oxfordshire
- 23 August 2016 - Ernest Jones, Derby
- 25 August 2016 - Fraser Hart, Peterborough
- 7 September 2016 - Poel Jewellers, Stratford-upon-Avon
DCI Fields said the planning that had gone into the crimes was extremely detailed and carefully worked out.
"We're dealing with a group of individuals who are extremely organised and forensically aware," he said.
"They went to great lengths and employed an interesting MO in an attempt to avoid detection"
DCI Fields said the group could be linked to the crime academy in Romania as several of the members came from the same region of the country and employed similar strategies.
The Romanian Crime Academy recruits men and provides a strict code for its members as well as training in numerous techniques, such as avoiding being followed as well as understanding forensic evidence.
"They employed a number of strategies including cycling to the scenes of their crimes and cordoning off sections of road to reduce traffic and observers.
"They also pitched tents, typically two to three miles from the scene of the crime and buried their waste in a bid to avoid DNA being gathered."
DCI Fields added:
"This is a complex investigation which spans other police force areas including Thames Valley, Hampshire, Kent, Cambridgeshire, Lancashire, Derbyshire and Warwickshire and was supported by the National Crime Agency and West Midlands Regional Organised Crime Unit and Romanian authorities.
"This was a highly organised Romanian crime group who, thanks to great partnership working between all forces, we were able to bring to justice. Police officers across the country have worked tirelessly and diligently to achieve this result today in Court.
"I hope the sentences handed out today send out a strong message - Staffordshire Police, along with other forces, will not tolerate such crime in our communities and we will take positive action against those involved."
A further man is due to be sentenced on 28 March.