Giant US Supercarrier Visits Portsmouth
27 July 2017, 12:09 | Updated: 27 July 2017, 12:20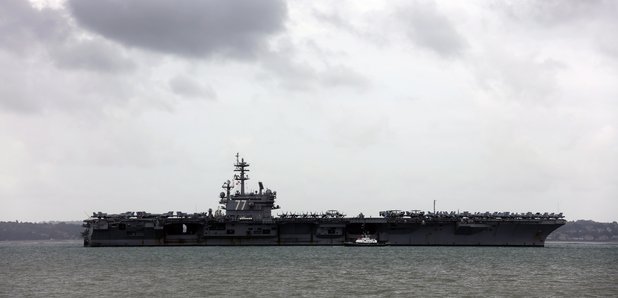 5,000 American sailors are starting a visit to Portsmouth with one of the world's biggest aircraft carriers now anchored in Stokes Bay.
The USS George HW Bush is too big to enter the Harbour - it's almost 200 feet longer than Britain's new supercarrier HMS Queen Elizabeth.
The 100,000 tonne ship is longer than The Shard is tall. It's stopping by on its way to operations in Europe and the Middle East.
Lots of people went out and watched it come into the Solent this morning.
A Royal Navy statement said:
'The USS George HW Bush and elements of her carrier strike group – the USS Philippine Sea, USS Donald Cook and Norwegian ship HNoMS Helge Insgstad - are on the final leg of their deployment in support of Operation Inherent Resolve, the Global Coalition's fight against ISIS.
'The Nimitz-class carrier has UK personnel on board as part of the UK-US Long Lead Specialist Skills Programme which qualifies them in US carrier operations in preparation for the arrival of HMS Queen Elizabeth and the UK's own carrier strike capability.
'Also embarked is Commander UK Carrier Strike Group Commodore Andrew Betton and his team for Exercise Saxon Warrior 17 - a joint maritime exercise that will focus how the two nations work together during a number of challenging scenarios around the UK coastline.'