Hampshire And Dorset NY Honours
30 December 2017, 08:10 | Updated: 30 December 2017, 11:06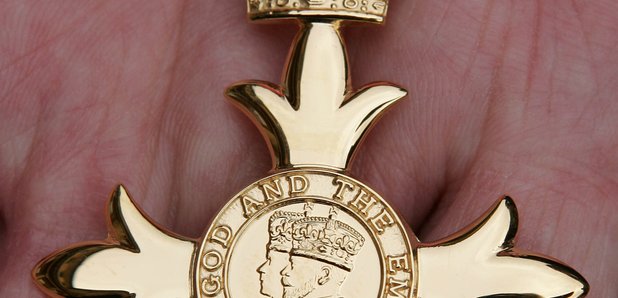 Hundreds of People Recognised For Services In Community.
People awarded for their services across the community include.

Professor Mike Tipton from University of Portsmouth gets MBE in New Year's Honours.
He is the UK's leading cold water survival expert and also helped Hollywood stars like Jake Gyllenhaal and and Josh Brolin prepare for filming in freezing high altitude conditions for the film Everest.
A magistrate from Portsmouth is getting an MBE for his services in the community
Christopher Hyson was the youngest service magistrate when he joined back in 1976.
Mr John Matthews from Isle of Wight , Trustee, Heart Your Smile. For services to Dentistry being awarded an MBE.
His dental practice was established on the ground breaking ethos that most dental disease could be prevented and that patients could keep their teeth, with the right education and active involvement of patients through tailored preventive care plans.
Others named this year include
KNIGHTS BACHELOR
Christopher Robert Chope, OBE. Member of Parliament for Christchurch. For political and public service. (Dorset)
CBE
Professor Joy Carter. Vice-Chancellor, University of Winchester. For services to Higher Education. (Winchester, Hampshire)
Professor Philip Arthur Nelson. Chief executive officer, Engineering and Physical Sciences Research Council, and Chair, Research Councils UK. For services to UK Engineering and Science. (Romsey, Hampshire)
OBE
Mrs Lynn Codling. Executive Headteacher, Portswood Primary and St Marys CE Primary School. For services to Education. (Gosport, Hampshire)
Professor Margaret Ann House. Vice-Chancellor, Leeds Trinity University. For services to Higher Education. (New Milton, Hampshire)
Philip James Kevin Jones. Defence Adviser to the Ukrainian Ministry of Defence. For services to International Defence Relations. (Hampshire)
Dr Lynsey Pinfield. Grade 6 British Defence Staff Washington. For services to International Defence Relations. (Hampshire)
Antony Alan Pritchard. Deputy command secretary, Navy Command, Ministry of Defence. For services to the Royal Navy. (Portsmouth, Hampshire)
Professor Richard Charles Thompson. Professor of Marine Biology, University of Plymouth. For services to Marine Science. (Hampshire) (Plymouth, Devon)
Richard Wilson. Head, office of the chairman and chief executive, Maritime and Coastguard Agency. For services to Transport. (Southampton, Hampshire)
Dr Brian Robert Bowsher. Chief executive, Science and Technology Facilities Council. For services to International and National Metrology. (Dorchester, Dorset)
MBE
Jonathan William Spencer. Head of Planning and Environment, Forest Enterprise England. For services to Woodlands, Nature Conservation and the Environment. (Winchester, Hampshire)
Professor Michael John Tipton. Professor of Human and Applied Physiology, University of Portsmouth. For services to Physiological Research in Extreme Environments. (Gosport, Hampshire)
Dr Joanna Margaret Walker. Consultant Paediatrician, Portsmouth Hospitals NHS Trust. For services to Children, Young People and Families in Hampshire and West Sussex. (Waterlooville, Hampshire)
Derek Weaver. Curator, Marine Engineering Museum, HMS Sultan. For voluntary service to Naval Heritage. (Gosport, Hampshire)
James Lewis West. Formerly head, Product Assurance, AWE Aldermaston. For services to Nuclear Safety. (Hampshire)
Mrs Lisa Anne Baldock. Administrative Officer, Human Resources, Department for Work and Pensions. For services to People with Disabilities in Public Service. (Portsmouth, Hampshire)
Mrs Jean Barbara Beauchamp. For services to Young People in Lockerley in Hampshire. (Nr Sailsbury, Wiltshire)
Norman Finlay. For services to UK Shipbuilding. (Southampton, Hampshire)
Mrs Louise Fitzroy-Stone. Executive director of sport, Guildford High School. For services to Education. (Emsworth, Hampshire)
Mrs Margaret Dorothy Heller. For services to the Magistracy and to Vulnerable Families in the community in Southampton. (Southampton, Hampshire)
Christopher Robin Hyson. For services to the Magistracy and the community in Hampshire. (Portsmouth, Hampshire)
Mrs Suzanne Marie Marklew. Senior Executive Officer, Foreign Liaison Staff (Army), Ministry of Defence. For services to Defence Engagement. (Hampshire)
Martin Graham Highmore Phipps. Harbourmaster. For services to UK exports. (Swanmore, Hampshire)
Michael John Pipes. Formerly school governor. For services to Education. (Emsworth, Hampshire)
Mrs Lindsey Ann Isaacs. Formerly head of Prevention, Dorset Fire and Rescue Service. For services to Fire Prevention and Community Safety in Dorset. (Dorchester, Dorset)
Christopher David Lewis. Lifeguard RNLI. For services to Maritime Safety. (Bournemouth, Dorset)
Mrs Josephine Maria O'Farrell. For services to the community in Crowthorne and Bridport. (Bridport, Dorset)
BEM
George Edwin Martin. Train manager, CrossCountry Trains, and Founder, Myras Wells. For services to charity. (Ferndown, Dorset)