Hampshire Author Jane Austen On New £10 Note
14 September 2017, 07:08 | Updated: 14 September 2017, 07:20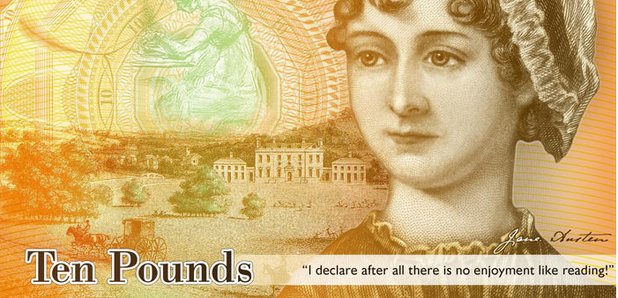 A new plastic £10 note, featuring Hampshire author Jane Austen, enters circulation today.
It's made of waterproof polymer like the new fiver - and the first to feature raised dots to help blind people.
The writer of 'Pride and Prejudice' and 'Emma' was chosen after a campaign to represent a woman on a banknote.
Just over one billion polymer £10 notes have been printed ready for issue and they will start to appear in wallets as the notes leave cash centres around the country and enter general circulation.
The new banknotes are expected to last at least two-and-a-half times longer than the current paper £10 notes, around five years in total, and stay in better condition during day-to-day use.
People can continue to spend the existing paper £10 notes for now. They will be phased out gradually as they are banked. Legal tender status of the paper £10 featuring Charles Darwin will eventually be withdrawn in spring 2018. The exact date will be announced at least three months in advance.
A new £20 note featuring artist JMW Turner will follow in 2020.
Bank of England governor Mark Carney said:
"The new £10 note celebrates Jane Austen's work. Austen's novels have a universal appeal and speak as powerfully today as they did when they were first published.
"The new £10 will be printed on polymer, making it safer, stronger and cleaner.
"The note will also include a new tactile feature on the £10 to help the visually impaired, ensuring the nation's money is as inclusive as possible."
This year has marked 200 years since Austen's death. Born on December 16 1775, in Steventon, Hampshire, Austen was one of eight siblings.
She started to write short, comic stories in childhood, and her first works were published anonymously. Sense And Sensibility was published in 1811, followed by Pride And Prejudice in 1813, originally titled First Impressions. Mansfield Park, Emma, Persuasion and Northanger Abbey followed.
She lived the last eight years of her life in Chawton in Hampshire, where she revised all of her novels for publication. Austen died on 18 July 1817.
While her work gave her little personal fame during her lifetime, Austen's novels started appearing on university reading lists around the start of the 20th century, with many films later exploring the themes of her writing.
Victoria Cleland, the Bank's chief cashier, said:
"It is wonderful to see the inspirational author Jane Austen celebrated on the new £10, and even more poignant being launched during the 200th anniversary of her death. I am grateful to the cash industry for their support in bringing the cleaner, safer, stronger notes to the public."