Hampshire Man On Lesbos: Refugee Crisis Not Over
6 February 2017, 06:51 | Updated: 6 February 2017, 12:49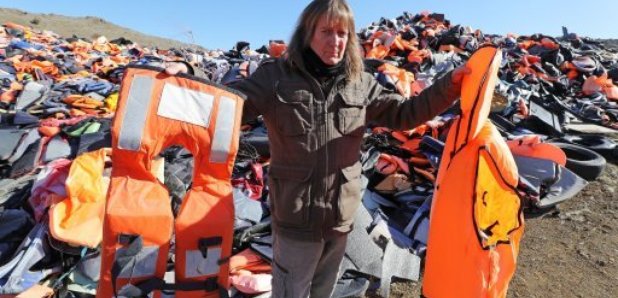 A Hampshire man, whose family are working to save refugees landing in Greece, is warning that the crisis is far from over.
Eric Kempson and his family are helping to tackle the humanitarian issue on the doorstep of their home in Eftalou, on the island of Lesbos.
The 61-year-old, originally from Winchester, said the boats are still coming, with refugees often wearing fake life jackets and during winter are at risk of hypothermia and frostbite.
While standing in front of a mountain of used life jackets, Mr Kempson said there were at least 150,000 in the pile, but the figure was only half of the original.
``It is not as big now as it was,'' the artist said. ``It looks impressive, but before it was unbelievable. For us and for the volunteers, it is quite a place.
``It brings back a lot of memories, a lot of screaming, a lot of shouting, a lot of crying - and the bodies.''
The pile is located close to his home and began to accumulate after long trips to the main tip became unsustainable owing to the large influx of refugees and subsequent life jackets.
``The majority of them are fake. We lost a lot of people because of the lifejackets,'' he said.
``They have normal sponge inside. If you jump in the water, it soaks the water up and can drag you down.''
Mr Kempson said a lot more people would have survived if their lifejackets had been real, with many refugees making the dangerous crossing forking out 100 for each buoyancy aid.
Along with his wife Philippa, 44, and their daughter Elleni, 18, the family moved to Lesbos more than 16 years ago and now run the Hope Project in a bid to help support arriving boats.
Three years ago, they decided to start helping after an increasing number of refugees began landing on the beaches around their home.
A nine-mile stretch of coast on the north of the island where they live is now monitored 24 hours a day by the Kempsons and a network of volunteers and non-governmental organisations.
Just 4.5 miles of sea separates Turkey and the island, but Mr Kempson said that despite the freezing winter temperatures, the boats are still heading to Greece.
Describing one rescue on Friday, he said:
``When we got the boat in, a lot of people collapsed. One guy had frostbite on his hands, big time - it had gone gangrene.''
He said there was also another boat last week on which ``everyone was hypothermic'', but that the number of boats heading for Lesbos was down at the moment.
``I think they are going to lift up again when the spring comes in,'' Mr Kempson said. ``Back in 2015 to 2016, it was really horrific. It was a war zone out here.
``A lot people think it is over with, but it has never stopped.''
Once ashore, they provide the soaking wet refugees with dry clothes, essential items, food and medical assistance before they are then moved to the camps in the south of the island.
With stacks of boxes containing the required supplies kept at his home, they also receive and distribute aid to where it is needed - including to doctors on the north coast and in the camps.
But Mr Kempson said the conditions in the camps were also a huge risk, especially with recent snowfall and temperatures of minus-5C, and revealed five refugees died in 10 days in Moria camp.
``A lot of people have died down there,'' he said, adding that the inhabitants of Moria are ``freezing''.
``They are living in summer tents in the middle of winter,'' he said. ``And this is in Europe. It is so disgusting, it is unbelievable.''
He described the food available in Moria as ``absolutely disgusting'' and said the ``drinking water is green'', with no hot water on the site that houses more than 4,700 people.
Asked how he deals with witnessing the distressing scenes, Mr Kempson said ``you just carry on from day to day''.
``You know the next day there is another boat coming in. I have had a police officer crying on my shoulder as we are looking at dead bodies, young children, around us,'' he said.
``You just have to block it out and keep going. A lot of people can't handle it. Everyone cries, from the hardest war cameraman to the reporters from all around the world.''
Eric and his family take donations online.