Heavy Fog In South For New Year's Eve
31 December 2016, 12:01 | Updated: 31 December 2016, 12:05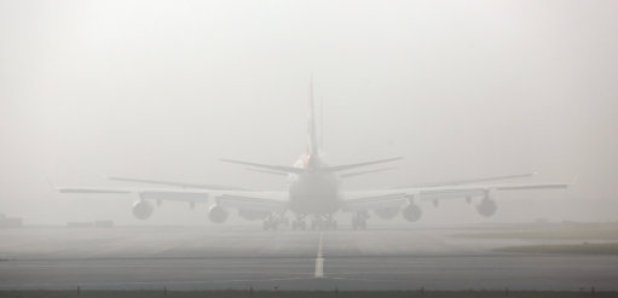 Air passengers were being warned to expect delays after the South of England woke up to a blanket of fog.
The heavy fog covering the region on Saturday, which was expected to lift as the morning progressed, caused disruption at major airports, including Southampton, Gatwick and Heathrow.
The Met Office fog warning across the south of the country, with drivers being urged to take care.
Meanwhile, Public Health England (PHE) warned of an incoming cold snap with temperatures expected to plummet as low as minus 5C (23F) on New Year's Day.
Passengers at Gatwick and Heathrow were being urged to get in contact with their flight operators for information on disruption.
A spokeswoman for Gatwick Airport said: ``Air traffic control restrictions imposed due to heavy fog across the South East and Europe is causing delays to flights to and from Gatwick.
``Passengers are strongly advised to check with their airline as to the status of their flight before travelling if possible. Gatwick is doing all it can to keep passengers moving and we apologise for the unavoidable and unfortunate disruption today.''
Some passengers hoping to catch easyJet flights were experiencing delays in excess of 30 minutes, she said.
Stansted Airport said it was expecting a ``normal day's operation'' with no cancellations, while Manchester Airport said there was no fog affecting flights.
Meanwhile, Highways England said there had been no significant weather-related incidents reported overnight on Friday or on Saturday morning.
One lane of the M11 was temporarily closed after a minor accident on the northbound slip road by Junction 8.
A spokesman said: ``The events over the last couple of days underline the importance of driving to the conditions.
``Fog can come very quickly so it's important to leave plenty of space.
``The thing that's really important to remember is when it's wet it does take twice as long to stop.''
A driver and 16 of his passengers were hurt when a coach veered off an M40 slip road and overturned in heavy fog near Milton Common in Oxfordshire at 2.45am on Friday.
It happened 20 miles (32km) from the scene of a fatal pile-up on the A40 in similarly treacherous conditions on Wednesday morning.
While the fog is expected to clear, a fresh strike by workers on Southern Railway will mean misery for affected passengers.
Members of the Rail, Maritime and Transport union launched a three-day walkout on Saturday morning in their long-running dispute over the role of conductors. Affecting Services from Portsmouth and Southampton.