HMS Queen Elizabeth Home In Portsmouth For Christmas
10 December 2018, 17:08 | Updated: 10 December 2018, 17:10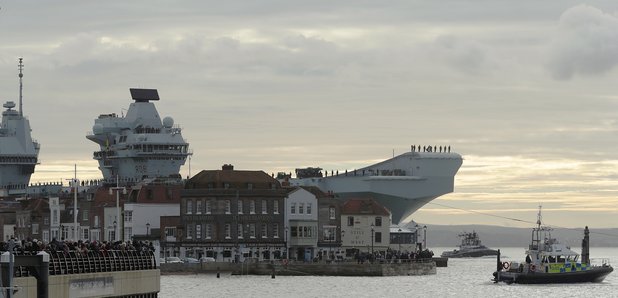 Hundreds of families have welcomed their loved ones home as the Royal Navy's aircraft carrier HMS Queen Elizabeth returned to base from its first major deployment.
The 65-000 tonne carrier arrived at Portsmouth Naval Base following its four-month trip to the US, where it took part in flight trials of the F35B Lightning jets before a visit to New York.
During the deployment, the two test aircraft carried out 202 take-offs from the ship's ski ramp, 187 vertical landings and 15 shipborne vertical landings.
Defence Secretary Gavin Williamson said: "HMS Queen Elizabeth's inaugural deployment to the US has not only marked the return of the Royal Navy's carrier strike capabilities but also strengthened our special relationship with US forces."
The carrier's commanding officer, Captain Nick Cooke, said: "The ship has proudly flown the flag for the UK across the Atlantic."
Able Seaman Lance Jones, from Tenby, Wales, was met by his fiancee Jessica James, from Fareham, Hampshire, and their 14-week-old baby Henry.
Mr Jones, who stayed behind when his son was born and joined the ship in New York, said: "It's amazing, a brilliant feeling to be home to spend our first Christmas together."
Petty Officer Michael Abley, 36, from Bordon, Hampshire, was met by his wife, Kelly, 39, and daughters Grace, nine, and Evie, six.
Grace said: "My dad's a hero and it's so exciting to have him home."
Mr Abley said: "It's brilliant, I'm over the moon to see the kids again."
Commodore Michael Utley, commander of the UK Carrier Strike Group, said: "It's a fantastic day for the Queen Elizabeth but more importantly for the ship's company and all these fine families that have come to see their loved ones come back from deployment."
The carrier was escorted during the deployment by HMS Monmouth, RFA Tidespring and aircraft from 820, 845 and 814 Naval Air Squadrons as well as Royal Marines from 42 Commando.