Ice Cream Treats For Lemurs At Marwell
20 July 2013, 00:01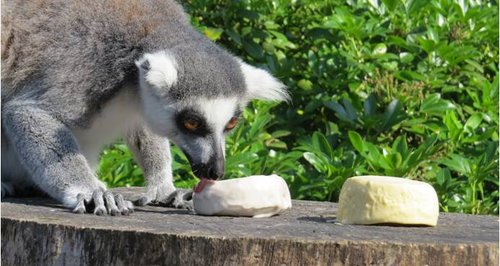 Animals at Marwell Zoo near Winchester have been cooling off in the hot weather with special ice cream.
Even animals from the tropics need help to keep their cool in the UK heatwave, so nutritionist Mare Sawle called into Marwell Zoo near Winchester with a freezer full of her Billy+Margot iced treats for dogs after Marwell experts gave the all clear for lemurs to cool off with the treats, too.

John Pullen,Curator of Mammals at Marwell Zoo, explains:
"Ice treats wouldn't normally be included in the diet of these primates but due to the extraordinary hot weather we are using them as an enrichment treat today."
Marie developed the treats after her pet Labrador, Billy, got a taste for ice cream. But dogs can be lactose intolerant so she developed her treat based around fruit and other nutritious ingredients such as Aloe vera and flaxseed oil.

"The treats are made by local company New Forest Ice Cream using 100 per cent human grade ingredients," says entrepreneur Marie, who has already won backing from Deborah Meaden after appearing on TV's Dragons' Den.
Now Marie is also manufacturing venison treats and doggy popcorn, too. Billy+Margot now has more than 360 retailers and is moving into the export market.

"I asked Marwell Zoo if I could help keep their animals cool because the heatwave looks like it's here to stay," adds Marie.

Animals are also keeping cool by staying in the shade and enjoying their pools and fountains.