London Bridge Terror: Seven Killed In Van And Knife Attack
4 June 2017, 12:22 | Updated: 4 June 2017, 13:38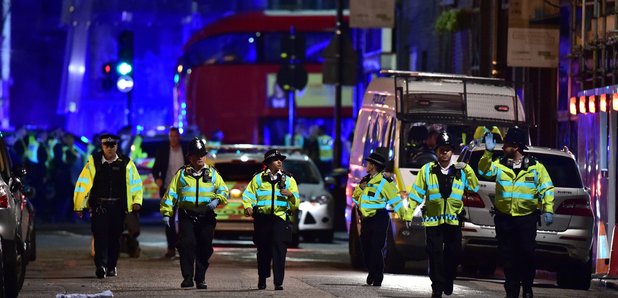 At least seven people have been killed and 48 injured in central London after attackers drove a van into pedestrians before stabbing others nearby.
The attack started at around 2208 on Sunday night, Police were called to an incident on London Bridge, officers then responded to reports of stabbings in Borough Market.
Initially the Met Police responded to three incidents, one on London Bridge, another in Borough Market and a third in Vauxhall. it was later clarified a stabbing in Vauxhall was not connected to the London Bridge and Borough Market attacks.
Police said three attackers jumped from a van that mowed down pedestrians near the bridge before stabbing a number of people with large knives.
Seven people were killed in the attack and at least 48 injured including a British Transport Police Officer who was responding to the incident.
The three suspected attackers were shot dead in nearby Borough Market eight minutes after police were called.
Police said the attackers were wearing suspected suicide vests, which were later found to be fake.
The Met Police do not believe any suspects are at large and say the highest priority is to identify the suspects as soon as possible.
At around 2345 anyone caught up in the incident were given the advice to run, hide and tell.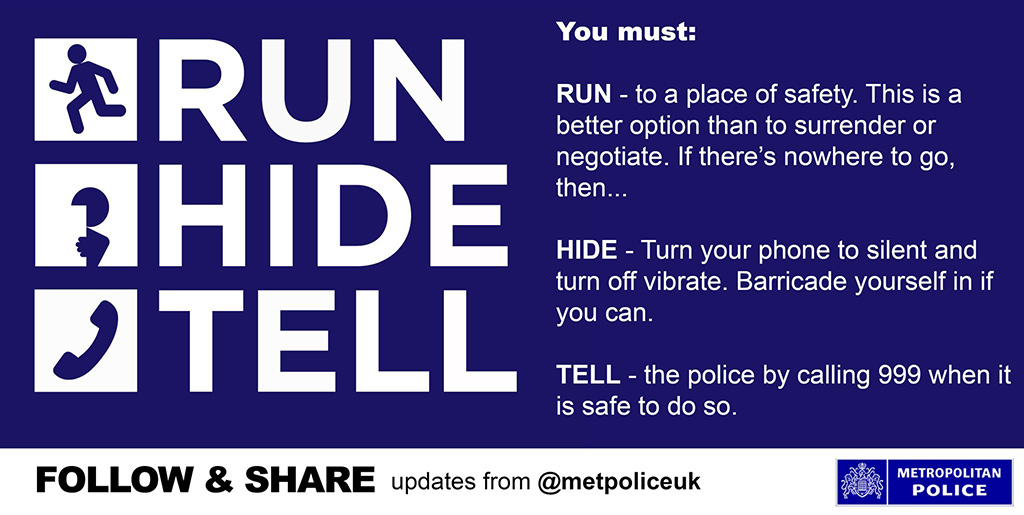 Then at 0025 the two incidents at London Bridge and Borough Market were declared as terrorist incidents.
Thoughts from all at @HantsPolice for all affected by attacks in London. And colleagues from @CityPolice @BTP @metpoliceuk. https://t.co/U7UFoBJHuu

— Olivia Pinkney (@OPinkney) 4 June 2017
Make sure you'd know what to do in the event of a #terrorism attack. Retweet to help save lives https://t.co/zfnZh4IOlU

— HampshireFireService (@Hants_fire) 4 June 2017
If you have any images or video's of the incidents, please share with police -
Anybody who has images or film of the #LondonBridge #BoroughMarket incident please help police by uploading it at https://t.co/YKydWRtFm3 pic.twitter.com/l0VlrPbwCI

— Terrorism Police UK (@TerrorismPolice) 4 June 2017
Anyone concerned about friends or relatives who may have been caught up in the attacks can call the police casualty bureau on 0800 096 1233 or 020 7158 0197.
If you are safe, please let friends and family know to relieve pressure on the Casualty Bureau.
Met Police update: 12 arrests in #Barking in connection with #LondonAttacks. #HeartNews https://t.co/uxggCHnKzz

— Heart South News (@HeartSouthNews) 4 June 2017
Theresa May gave a statement outside Number 10 Downing Street:
...."We cannot and must not pretend that things can continue as they are. Things need to change and they need to change in four important ways.
First, while the recent attacks are not connected by common networks, they are connected in one important sense. They are bound together by the single evil ideology of Islamist extremism that preaches hatred, sows division and promotes sectarianism.
It is an ideology that claims our Western values of freedom, democracy and human rights are incompatible with the religion of Islam. It is an ideology that is a perversion of Islam and a perversion of the truth.
Defeating this ideology is one of the great challenges of our time, but it cannot be defeated by military intervention alone.
It will not be defeated by the maintenance of a permanent defensive counter-terrorism operation, however skillful its leaders and practitioners.
It will only be defeated when we turn people's minds away from this violence and make them understand that our values - pluralistic British values - are superior to anything offered by the preachers and supporters of hate.
Second, we cannot allow this ideology the safe space it needs to breed....
...And we need to do everything we can at home to reduce the risks of extremism online.
Third, while we need to deprive the extremists of their safe spaces online, we must not forget about the safe spaces that continue to exist in the real world.
Yes, that means taking military action to destroy Isis in Iraq and Syria. But it also means taking action here at home.
While we have made significant progress in recent years, there is - to be frank - far too much tolerance of extremism in our country...
...But the whole of our country needs to come together to take on this extremism, and we need to live our lives not in a series of separated, segregated communities, but as one truly United Kingdom.
Fourth, we have a robust counter-terrorism strategy, that has proved successful over many years.
But as the nature of the threat we face becomes more complex, more fragmented, more hidden, especially online, the strategy needs to keep up.
So in light of what we are learning about the changing threat, we need to review Britain's counter-terrorism strategy to make sure the police and security services have all the powers they need.
And if we need to increase the length of custodial sentences for terrorist-related offences - even apparently less serious offences - that is what we will do.
Since the emergence of the threat from Islamist-inspired terrorism, our country has made significant progress in disrupting plots and protecting the public.
But it is time to say `Enough is enough'.
Everybody needs to go about their lives as they normally would. Our society should continue to function in accordance with our values.
But when it comes to taking on extremism and terrorism, things need to change.
As a mark of respect, two political parties have suspended our national campaigns for today. But violence can never be allowed to disrupt the democratic process, so those campaigns will resume in full tomorrow and the General Election will go ahead as planned on Thursday.
As a country, our response must be as it has always been when we have been confronted by violence.
We must come together, we must pull together, and united we will take on and defeat our enemies."