Man Rescued From Sinking Tug Boat In Southampton Water
31 March 2015, 07:32 | Updated: 31 March 2015, 13:33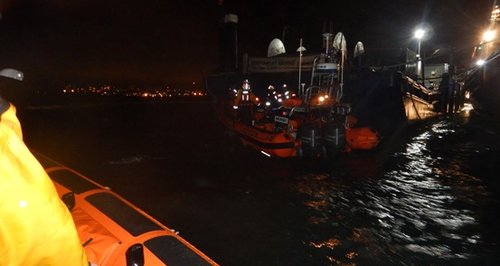 A man's been rescued from a sinking tug boat in Southampton Water - by a colleague who swam out under the water to smash a window.
The Asterix, attached to Esso Oil Refinery at Fawley, capsized and began to sink just off the refinery's pontoon just after 7pm on Monday (30 March).
One crew member managed to jump clear and swim to safety, leaving one man still unaccounted for.

The RNLI lifeboats from Cowes, Lymington and Calshot undertook a co-ordinated search of the windswept waters, using their powerful searchlights. One lifeboat crew banged on the hull of the Asterix, still visible at this stage above the water, but received no response.

Another employee from the firm Solent Towage, who was watching the capsized vessel from the pontoon, then just glimpsed an arm in a small pocket of air behind a window. Without hesitation the employee leapt into the water, smashed the window and extracted the trapped crew member.

Both were evacuated from the water just before the tug sank. Both the rescuer and rescued, plus the man who had swum clear earlier, received immediate emergency care from the attending paramedics and RNLI crew members training in casualty care.
All three men were then taken by ambulance to hospital.
A Marine Accident Investigation Board investigation is underway into why the vessel ran into difficulties.

Cowes lifeboat had launched at 8.30 pm. Among the four crew was Dr Will King who helped provide medical care to two of the casualties. Joining the three lifeboats in the search was another Fawley tug, Ibex, together with Red Funnel's car ferry Red Eagle and catamaran Red Jet 4.

Cowes lifeboat returned to station at 10.15 pm.
A spokesperson for Red Funnel said:
"We are relieved to hear the crew from the Asterix were safely recovered and we were pleased our crews were in a position to help in the search and rescue operation which is something they practice at regular intervals".