Milford: Storm-Damaged Beach Huts To Be Replaced
12 March 2015, 07:18 | Updated: 12 March 2015, 07:19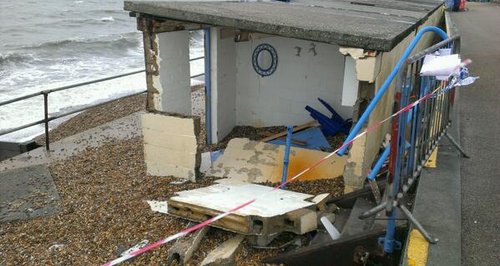 More than a million pounds is going to be spent replacing 119 beach huts in Milford on Sea in Hampshire - which were smashed to pieces by storms.
The huts were destroyed or damaged on Valentine's Day last year.
Outline planning permission has been granted to replace them. The planning consent, agreed at a meeting of New Forest District Council's Planning and Development Control Committee on 11 March, provides for the replacement of the beach huts and the necessary repairs and improvements to the lower promenade on which the huts sit.

Councillor Edward Heron, New Forest District Council's portfolio holder for the environment, said:
"I am very pleased that by securing outline planning permission to replace the huts and restore the promenade we can now move this project forward. We will be clearing the lower promenade in time for the public to use the beach this summer, and in the long term I believe this project will help enhance the beach at Milford for everyone who uses it."
Although the planning consent covers the principle of the development only, it does specify that the finished roof level of the huts will not exceed the existing heights. Details of layout, scale, appearance, access and landscaping will be covered by the submission of a full planning application later in the year.

Cllr Heron added:
"We've been working closely with all interested parties including Milford parish council and the Beach Hut Owners' Association to fully understand everybody's views and balance these with our responsibilities to council taxpayers. I look forward to continuing that co-operation into the next phase of the project."

Demolition of the remaining beach huts and clearance of the site is expected to be carried out during June 2015. Temporary barriers will be installed along the upper promenade to protect the public from the significant drop from there to the lower promenade.
This month the council will invite tenders for design consultancy and project management of the works to repair and replace the lower promenade, beach huts, walkways, steps and accessible ramps. Consultants will be appointed who will develop detailed designs to be taken forward as an application for full planning permission.
The scheme is expected be a £1.1million design and construction process. Beach hut owners will be making a substantial contribution towards their replacement huts and the council will recoup the expenditure over time through the licence fees. The funds for the project will come from the council's capital fund.