Mum And Daughter Rescued From Mud At Lymington
2 March 2015, 12:39 | Updated: 2 March 2015, 12:41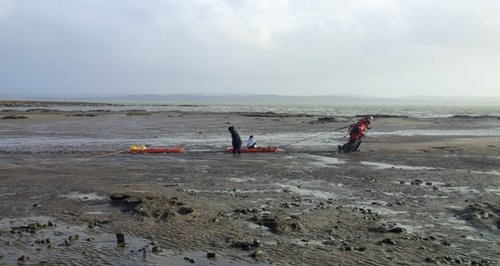 A mum and daughter have been rescued after getting stuck in the mud at the entrance to Lymington River.
Lymington Coastguard, assisted by Hill Head Coastguard and Hampshire Fire and Rescue service were called to the incident which was reported yesterday at 2.20pm.

The two were stuck in the mud at Tanners Lane beach about 30 metres from the shoreline. Two other members of the family - father and son - were also there but not stuck.

The mother went to the aid of her daughter but then both got stuck and the emergency services were called.

Coastguards arrived on the scene at 2.40pm. By 3.20pm the coastguard team had rescued the two and passed them onto the South Central Ambulance paramedics for medical care.

Colin Tabor, station officer at Lymington Coastguard said:
"This was a challenging one because of the location and also because we were faced with deteriorating weather conditions and a flood tide.

"There was also some concern about the cold and how it might affect the casualties.

"We had all just re-qualified two weeks previously in mud rescue and these kind of incidents show the value of such training."