New Cinemas For Southampton And Bournemouth
10 February 2017, 07:07 | Updated: 10 February 2017, 07:08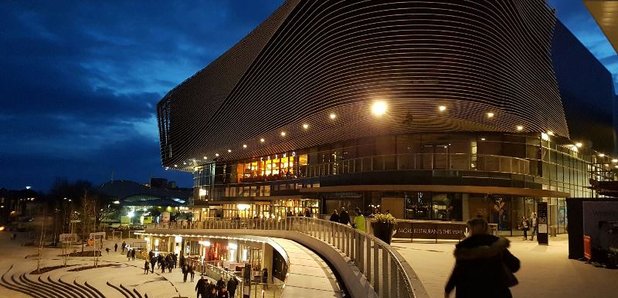 Not one, but two, new state of the art cinemas open on the South Coast later.
Bournemouth's 10-screen Odeon opens its doors at the BH2 leisure development.
The Showcase Cinema De Lux is the latest part of Southampton's new West Quay development to open - promising electric reclining seats, a lounge bar and VIP service.
That's being marked with a Festival of Light in the new public Esplanade next to it - featuring 12,000 LED lights.
A statement on Bournemouth's new Odeon said:
'Film fans across the region are set to be awe-struck by the arrival of the state of the art ISENSE screen, at the new ODEON Bournemouth located in the BH2.
'The gigantic screen measures 16.9 x 7.19 meters, and is curved to maximise light reflection, packing state-of-the-art 4K digital projectors that deliver almost nine million pixels for an even clearer and more detailed picture. The ISENSE experience includes a cutting edge Dolby Atmos sound system that uses 56 top spec speakers, each individually controlled to draw guests into the heart of the action.'
Andy Edge, Commercial Director for ODEON in the UK and Ireland said:
"This cinema is our most advanced yet and is a flagship site for us in the UK. The ISENSE screen will deliver the highest quality big screen experience, with a high definition screen up to four times the resolution of a standard screen and Dolby Atmos sound technology bringing the latest blockbusters bursting to life."
Richard Rowe, General Manager at ODEON Bournemouth added:
"We can't wait to bring the latest blockbusters to Bournemouth on our cutting edge ISENSE screen - it will be a truly unique experience and we look forward to welcoming as many local film fans from the 10th February."
West Quay said:
'Southampton's new dining and leisure destination is set to host a stunning Festival of Light on Friday 10th February in scheme's public Esplanade to mark completion of the development and the launch of Showcase Cinema De Lux. The 10 state-of-the-art screen cinema includes the biggest screen not only in Southampton, but on the whole of the South Coast.

'The Festival of Light will run from Friday 10th to Sunday 19th of February, starting at 5pm each day and ending at 10pm. The installations will feature work from design studios Squid Shop and Cinimod, both of which have curated innovative light displays that captivate visitors.

'Highlights for visitors will include immersive artwork that tracks body movements, illuminated arches and an interactive ocean featuring 12,096 LED lights. And on Valentine's Day the display will be adapted to feature digital mapping that shows a sequence of romantic, abstract coloured scenes.'

Andy Collyer, General Manager of Westquay said:
"Marking the important milestone of completion of Westquay's dining and leisure offer with a spectacular Light Festival is very fitting. We were delighted that the light display in December was such asuccess and enjoyed by so many people which is why we have chosen to bring it back but this time with so much more to experience.

"Since the first restaurants began opening last month it has been great to see visitors enjoying the fantastic line-up Westquay now has and we look forward to welcoming many more customers as Southampton now undoubtedly becomes the go-to destination for retail, leisure and dining on the South Coast."