Police Suspect Huge New Forest Gorse Fire Was Arson
17 July 2018, 12:16 | Updated: 17 July 2018, 16:10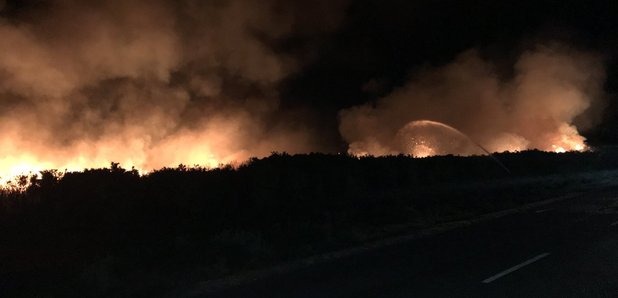 An area of gorse the size of 50 football pitches has been destroyed by a fire in the New Forest.
45 firefighters were called to an area off Rollestone Road in Holbury in the early hours of this morning (Tuesday 17 July).
Hampshire police now say the exact cause of the fire is unknown, but it is being treated as suspicious.
Hampshire Fire & Rescue said:
'A large area of gorse and bush has been destroyed by fire in the New Forest.
'At its height, around 45 firefighters tackled the flames just outside Holbury. An area the size of approximately 50 football pitches was affected by the fire.

'No-one was injured and no properties affected. The fire was out by 3.23am.

'The cause of the fire is not yet known.'
The Forestry Commission are now damping down any hotspots.
(Pics: Lyndhurst Fire Station / Hampshire Fire & Rescue)