M27 Crash Victim Was Man In 40s
27 March 2015, 11:54 | Updated: 27 March 2015, 11:57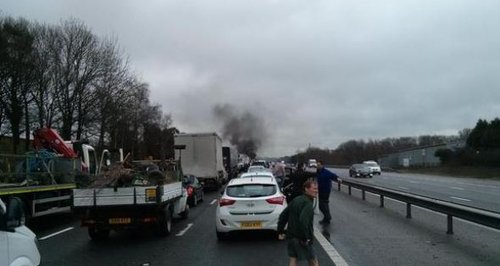 Police are appealing for information after a driver died in a collision on the M27 yesterday morning.
Around 9.10am (Thursday, March 26), five vehicles were involved in a collision on the eastbound carriageway just before junction nine at Whiteley.

Two of the vehicles, a DAF artic lorry and a silver Ford Focus, collided with one another and caught fire.

The driver of the Focus died at the scene and is believed to be a man in his 40s although officers are still carrying out enquiries to confirm identity and contact all next-of-kin.

The lorry driver, a 53-year-old man from Wiltshire, was shaken but otherwise uninjured.

The other vehicles involved were:

• a black Citroen C5 driven by a 53-year-old man from Hedge End
• a silver Vauxhall Zafira driven by a 29-year-old man from Eastleigh and carrying four passengers: a 25-year-old woman and three young children
• a black Honda CR-Z driven by a 39-year-old man from Swindon

Sergeant Adrienne Jerram from the Serious Collision Investigation Unit said: "This is a very complex investigation into a serious collision in which one person died.

"We have spoken to all the drivers involved and at this time we are focussing on establishing the exact sequence of events leading to the collision as well as which vehicles were in contact with one another.

"A lot of people were driving along that stretch of the motorway yesterday morning and I'd like to thank everyone who has come forward with information so far.

"I'd still like to hear from you if you've not yet spoken to us and can help with our enquiries, especially if you witnessed the collision or saw any of the vehicles involved.

"In particular, I'm aware there are video clips of the incident recorded on dashboard cameras from vehicles passing by and I am very keen to hear from anyone who can us provide with this footage."

Drivers were stuck in queues for up to six hours yesterday as roads across the area approaching the affected part of the M27 ground to a standstill. The fire badly damaged the eastbound carriageway which remained closed overnight for repairs, but reopened early this morning.

Anyone with information on the crash is asked to contact the Serious Collision Investigation Unit at Eastleigh police station on 101.