Painted Zebras To Roam Southampton
26 February 2015, 06:43 | Updated: 26 February 2015, 17:10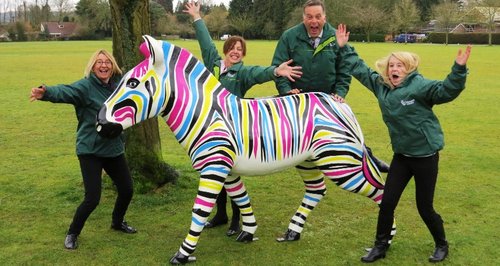 There's going to be a herd of painted zebras across Southampton.
Marwell Wildlife's revealed the animal's been chosen for a new art project, in summer 2016, called Zany Zebras.
In 2013, Marwell brought the hugely successful Go! Rhinos! public art trail to the city, which was enjoyed by more than 250,000 visitors and residents. The project saw a herd of small and large rhino sculptures stampede through the streets and parks of Southampton in a riot of colour and vibrancy.

Kirstie Mathieson, Project Manager of Marwell's Zany Zebras said:
"Following on from this huge success and after much demand for the return of a public art trail, Marwell Wildlife has been inspired to do it all again, but this time with Grevy's zebras!

"Marwell's Zany Zebras will hit the streets of Southampton in 2016 and it promises to be even bigger and better than before."

The official launch of the project took place at the Southampton Art Gallery yesterday evening (Weds 25 February) where the first stunning zebra sculpture 'Gilbert' was revealed.

Kirstie added:
"We're incredibly excited to announce our plans for Marwell's Zany Zebras and we have already had an overwhelming response.

"We know that events of this type present the perfect vehicle for businesses to raise their profile; boost footfall and generate additional income, all whilst supporting a project which reaches across communities, wildlife, arts and the environment.

"There's great enthusiasm from the businesses we've spoken to so far and 'Marwell's Zany Zebras' is guaranteed to be the South's 'MANE' event in 2016."

Marwell has chosen a Grevy's zebra sculpture to highlight the plight of the species in the wild. For two decades Marwell Wildlife has been working with partners in northern Kenya to conserve wildlife in the area. There are under 3,000 Grevy's zebra left in the wild.

James Cretney, Marwell Wildlife's Chief Executive said:
"Marwell is always looking at ways to build on our links with the community and a public art trail that can be enjoyed by thousands of people, as we know, really works well.

"All proceeds from the Marwell's Zany Zebras charity fundraising auction will help support our long-term work with Grevy's zebra in Africa. This large and striking animal shares the landscape with many other species including elephant and large carnivores; all living alongside economically marginalised farming communities- another area of interest for Marwell.

"Grevy's zebra are in crisis and represent a flagship species for us. Marwell Wildlife works with partners in northern Kenya to conserve nature and support people who depend on the environment.

"So not only will Marwell's Zany zebras bring joy to the city of Southampton but will also support Marwell's overarching charitable work."

Councillor Satvir Kaur, Cabinet Member for Communities at Southampton City Council, said:
"We were delighted with the public's response to the Go! Rhinos trail in 2013. Residents and visitors to the city loved these colourful and creative additions to our public spaces, with tens of thousands of people having their photo taken next to one of these fabulous pieces of art.

"We're really excited to be working with Marwell on next year's trail, as it will once again provide an opportunity to showcase Southampton and take people to places which they wouldn't ordinarily visit."

Businesses are being invited to take part in this exclusive event, with a chance to sponsor a large zebra which will go on display in the city. In addition, a miniature replica will be on display in Marwell Zoo.

Sally Thompson, CEO of Business South, said:
"After the massive success of Go! Rhinos Business South is delighted to be supporting this new project. Businesses did take a leap of faith with the Go! Rhinos project but their courage was rewarded and the rhino charge brought thousands of people to Southampton.

"I feel certain this latest project will also get the support of businesses who are keen to support such an important cause."

The zebras will be painted in a range of different colourful designs by local artists. Once painting is complete, the zebras will form a trail across Southampton, before being sold off at a grand auction.

Local schools will be encouraged to get involved too. They will have the chance to adopt a smaller zebra which children can decorate whilst learning about Marwell's conservation work with Grevy's zebra in the wild.
(Photo: Twitter - @zanyzebras2016)