Pollution-busting Bus Trialled In Southampton
27 September 2018, 16:07 | Updated: 27 September 2018, 16:33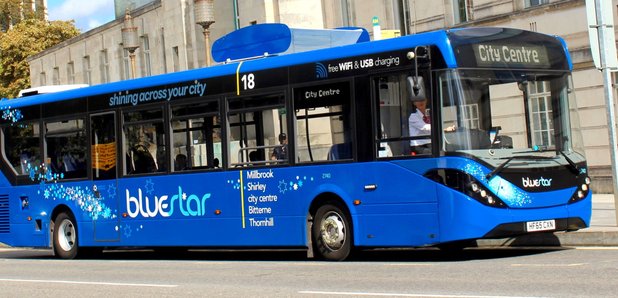 The UK's first air-filtering bus, which claims to make the air around it cleaner while on the move, has been launched in Southampton.
The Bluestar bus, operated by Go-Ahead, is fitted with a specially designed filter that removes ultrafine particles from the air and traps them as the vehicle moves through the streets.
The filter then allows the bus to blow out more pure air so the air behind it is cleaner than in front of it.
Go-Ahead chose the Hampshire city to host the prototype because earlier this year the World Health Organisation (WHO) revealed that the city was at its limit of unsafe air pollution.
The WHO has said air pollution is linked to 4.2 million premature deaths worldwide and the Department for Environment, Food and Rural Affairs (Defra) estimates that particulate air pollution reduces life expectancy by an average of six months.
Go-Ahead chief executive David Brown said: "We want this pilot to show that buses should be looked at as not just the solution to congestion in cities, but also as a solution to the air quality problem.
"As the bus removes the ultrafine particles from the air as it travels along the route, it is helping solve the air quality problems of the city.
"This bus will clean the air on its route 1.7 times a year to a height of 10 metres - imagine the change we could make to air quality if all buses had this technology."
The air filter is manufactured by Pall Aerospace, the world's largest aerospace and defence filtration company.