£15m Portsmouth And Fareham Travel Projects Start
17 August 2015, 08:08 | Updated: 17 August 2015, 08:10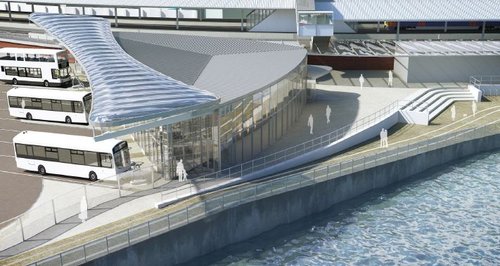 Two multi-million pound projects to improve travel links in Hampshire start today.
£7 million is being spent on a new transport interchange on The Hard in Portsmouth - designed to improve link-ups between buses, trains and ferries (above).
Meanwhile, £8 million work begins in Fareham to ease traffic jams between the town and Gosport. Extra lanes and traffic lights are being added to the Peel Common and St Margaret roundabouts.
Portsmouth City Council is reminding drivers a new one-way system will be introduced at The Hard from the evening of Monday 17 August, so any vehicles coming to The Hard from Queen Street will have to travel along Wickham Street.

The one-way system will be in operation throughout the construction of The Hard interchange. Part of the existing interchange site will close on 1 September, with bus stops moving onto the road at The Hard, while the taxi rank will be relocated next to the arches by the Gunwharf Quays pedestrian entrance and tourist coaches will use Queen Street to pick up and drop off.

Creating a new transport interchange is the first step in a vision to regenerate the area around The Hard.

The new interchange is designed to better link buses, trains and ferries; make the site easier to navigate; enable pedestrians, cyclists and vehicles to share the space more safely; and make the area look more welcoming.
Work to improve traffic management and reduce congestion in Fareham and Gosport continues, as work begins on the A27 St Margarets roundabout and Peel Common roundabout from today.

Hampshire County Council's Executive Member for Economy, Transport and Environment, Councillor Seán Woodward, said:
"Both of these schemes will help alleviate pressure around Fareham and Gosport during peak times, providing commuters and residents with more reliable journey times.

"Improvements to traffic management, and pedestrian and cycle paths will also dramatically improve access for everyone."

St Margarets roundabout: Work on this £4.6 million scheme will last for up to 12 months and include adding additional traffic lanes on both the A27 approaches and on the roundabout. Adding traffic lights on the A27 Southampton Road, Cartwright Drive and Warsash Road approaches, together with traffic lights on the roundabout will help to ensure traffic is kept flowing from all approaches. Footpaths will also be widened to create shared use pedestrian and cycle routes on the north side of the A27 with crossing points on Cartwright Drive and the A27 west of the roundabout.

Peel Common roundabout: Work on this £3.25 million scheme will take about eight months and includes installing traffic lights on the Rowner Road, Broom Way and Newgate Lane entry arms of the roundabout. Adding an additional traffic lane from Newgate Lane towards Rowner Road and on the Rowner Road approach to the roundabout. A shared footpath and cycleway will be added to the south side of the roundabout along with new crossing facilities across Newgate Lane, Broom Way and Rowner Road.

Cllr Woodward continued:
"It is inevitable that work of this scale will cause some disruption but to reduce the impact of the works, we will be maintaining the existing number of traffic lanes at peak times, whenever possible and carrying out the majority of work during off peak hours, including some night work.

"This work forms part of our wider improving access to Fareham and Gosport plan, to not only relieve congestion in and around Fareham and Gosport but also open up the potential of the area to economic success."