Portsmouth Navy Officers Honoured For Typhoon Relief
26 February 2015, 07:33 | Updated: 26 February 2015, 07:35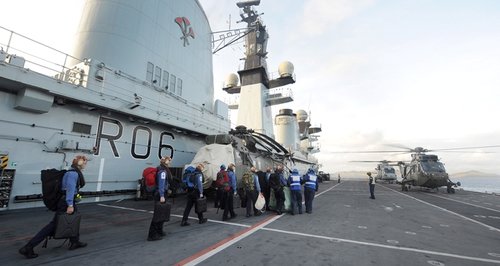 Five Royal Navy officers on Portsmouth-based warships have been rewarded for helping out after the typhoon in the Phillipines in 2013.
A Queen's Commendation's also been awarded to an officer from HMS Atherstone who treated a diver after an accident off Bahrain last year.

Lieutenant Wendy Frame receives the MBE for her work as deputy marine engineering officer on board HMS Daring which was the first RN ship to arrive in the Philippines in November 2013.

She repaired vital water wells and rebuilt school buildings, ensuring a small island community of 200 young families had their first access to clean drinking water since the typhoon struck.
She also delegated her team to repair numerous fishing boats - vital to communities in bringing in fresh food - which were damaged by the typhoon.
Lt Frame, who lives in Gosport and is due to get married in the summer, said she was delighted with the honour.
"I was shocked when they told me," she said. "I had to read the letter four times before it would sink in. I called my fiancée Adele straight away and then my mum Heather who burst out crying so it all started to feel more real then."

Captain Mike Utley has been awarded the OBE for his role as Commanding Officer of HMS Illustrious during the humanitarian mission in the Philippines.

The ship was returning from the Middle East to the UK for Christmas when it was diverted to help with the relief effort.

Capt Utley quickly devised a simple but thorough plan to fully utilise the ship's aviation and medical capacity.
With imagery from reconnaissance missions and capabilities of intelligence analysts on board he swiftly derived an accurate picture which became the source document used by international agencies to prioritise needs.

His citation says: "Leading from the front and motivating his ship's company from ashore, he engaged with senior village elders to drive activity forward. The pace that HMS Illustrious set itself was unrelenting, delivering more than any other nation's maritime contribution in the Western Philippines. He was a beacon in the darkness of this human tragedy and represented his country and Service proudly and with utter humility."

Commander Philip Hally, who was Commander Logistics on board Illustrious, receives the MBE. He organised the rapid embarkation of 500 tonnes of relief aid in two days and ensured that food distribution and reconstruction operations were correctly organised

His citation reads: "Always a step ahead in the planning and conduct of operations, his personal contribution to the success of the operation cannot be over-stated. He displayed devoted service in the Philippines and exemplary conduct."

Lieutenant Commander Steven Wall, second in command of HMS Daring, also receives the MBE.

He led working parties ashore, taking charge of up to 50 people at any one time. He quickly determined the essential needs of ten communities across seven islands, delivering support to more than 10,000 people.

His citation says: "Each night, he diligently debriefed and critiqued the team's performance to improve efficiency in the future before addressing his own routine workload which did not abate due to the ship's tasking. He displayed exemplary leadership, adaptability and an ability to thrive in the face of an enormous challenge, for which he had received limited raining and was instrumental in the ship's success as part of the operation."

Lieutenant Commander Graeme Walker - Daring's Lynx helicopter pilot during the operation - receives a Queen's Commendation for Valuable Service.

During eight days he conducted reconnaissance sorties covering 1,400 miles and transported 30 tonnes of humanitarian aid and moved 247 personnel.

More than 4,000 photographs and several hours of footage taken from the Lynx proved vital in tracking the path of destruction caused by the typhoon. The information proved critical to the ship, the United Nations, other militaries and aid agencies to target aid where it was needed most.

His citation reads: "During this period of intense activity, conducting precision flying at the edge of the Lynx's operational envelope, he displayed resilience, concentration, outstanding airmanship and unfailing good humour despite the exceptional demands placed upon him."

Lieutenant David Starkey, second in command of minehunter HMS Atherstone, also receives a QCVS.

When a diver suffered difficulties during a joint UK-US exercise in February 2014 - and had to conduct an emergency assent - Lt Starkey immediately took charge of the incident in a cool and professional manner.

He quickly tended to the casualty, established he had suffered from excessive carbon dioxide levels, and ensured his recovery in a composed but determined manner.

He has also been rewarded for furthering relations between the Royal Navy and Bahrain Defence Force (BDF) during his six months in the region.

His citation says: "He spent a considerable amount of his own time devoted to promoting interaction with the Bahrainis in the fields of diving and explosive ordnance disposal. And because of his efforts the BDF have confirmed a real interest in improving interaction between themselves and the RN and to conducting combined training in the future."