Portsmouth Shop Robbed By Man With Pickaxe
27 February 2017, 08:27 | Updated: 27 February 2017, 08:37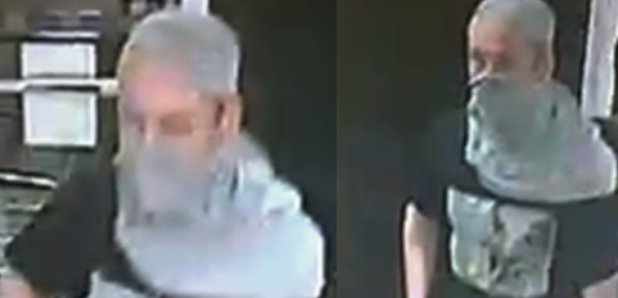 A man's wanted by police after robbing a shop in Portsmouth, armed with a small pickaxe.
He stole £300 from the till in the Co-op on London Road, after threatening a staff member on Saturday night.
Shortly after 9.30pm, a man approached the till area before producing an item, thought to be a small pickaxe.
After making threats to the cashier, the man grabbed around £300 cash from the till and damaged the store's landline phone.
The man has been described as white, slim, around 6ft 2ins tall, and had a light grey scarf-type garment covering his head and lower part of his face. He was described as wearing mismatched gloves, black trainers with white soles, a black t-shirt with a distinctive design on the front, and carrying a black rucksack on his back.
Officers would like to hear from anyone who witnessed the incident, or can help identify the person shown in the CCTV images.
Detective Constable Michael Strangeway said:
"We would like to speak to anyone who attended this store between 9pm and 9.35pm that night.
"We'd like to know if you saw anyone matching the description of the offender, either inside or outside the store, or whether you saw anyone acting suspiciously.
"In addition, we are also appealing to anyone who recognises the man in the CCTV images. We need to speak to him as he may be able to assist our enquiries.
"If you recognise this person then please contact police."
Anyone with information is asked to contact DC Strangeway on 101, quoting 44170073439, or call Crimestoppers anonymously on 0800 555 111.