Portsmouth Waste Tyre Boss Fined £13,500
13 May 2014, 15:22 | Updated: 13 May 2014, 15:34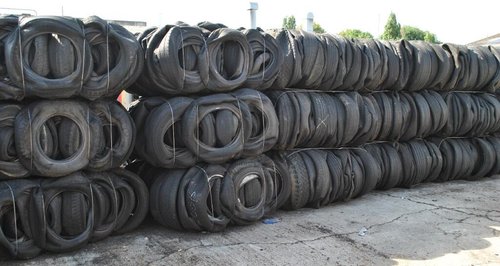 The director of an illegal waste site in Portsmouth's been given a suspended jail sentence for storing 780 tonnes of waste tyres.
The Environment Agency has prosecuted a man who illegally stored over 780 tonnes of waste tyres at a site that he ran as an unpermitted waste facility in Portsmouth for over two years.
Mr Brian Wade, sole director of Southern Rubber Products Ltd, based out of Unit 6, West Building, Claybank Road, Portsmouth, Hampshire, appeared at Portsmouth Magistrates Court on Monday 12 May.
Mr Wade pleaded guilty and was sentenced to 8 weeks imprisonment, suspended for 12 months, in addition to a curfew order to remain indoors between 7pm and 6am (electronic tag) plus an £80 victim surcharge.
Mr Wade's company, Southern Rubber Products Ltd, was fined £10,000 and ordered to pay the £3,511 costs claimed.
The Court heard that Southern Rubber Products Ltd collected, stored, treated and exported waste tyres from the Portsmouth premises.
In order to carry out this operation a permit is required from the Environment Agency. Some exemptions exist to allow certain waste activities to take place without the need for a permit.
For these to be valid strict criteria have to be met. Southern Rubber Products Limited had a number of exemptions in place for the site, but due to the vast number of tyres and their illegal storage none of the exemptions covered the waste activities on site.
On 29 August 2013, Environment Agency Officers inspected the site where approximately 780 tonnes of waste tyres were seen to be deposited.
The site had been vacated by the company and the tyres had been left behind, leaving the landlord with the responsibility to clear them from the land. The total cost for the removal of the illegally deposited tyres was £24,959.
Mr Brian Wade was interviewed by the Environment Agency and admitted that he was the sole director of the company and that he was responsible for depositing the tyres on site. He stated that there were issues in getting rid of the tyres, that the landlord wanted him off the premises and that he had health problems.
Kirsty Mayo of the Environment Agency said:
"It is very disappointing that Mr Wade continued to deliberately operate an illegal site despite having an understanding of his responsibilities. He was registered with us for some exemptions, so he had little excuse in claiming he was unaware his waste obligations.
"The net is closing in on people who think they can make easy money undercutting legitimate waste businesses by putting the local environment at risk. We are constantly gathering information on illegal waste sites, criminal activities and environmental crime in Hampshire and across the south east.
"We are taking a zero tolerance approach against offenders. In cases like this where individuals consistently operate illegally, we have absolutely no hesitation in prosecuting them as we want to make sure that waste crime doesn't pay."
The Magistrates presiding over the case stated that their sentence was reached due to a number of aggravating factors including the offences being a deliberate act over a long period of time.