Portsmouth WW2 Veteran Given Bravery Medal
5 June 2013, 06:51 | Updated: 5 June 2013, 11:47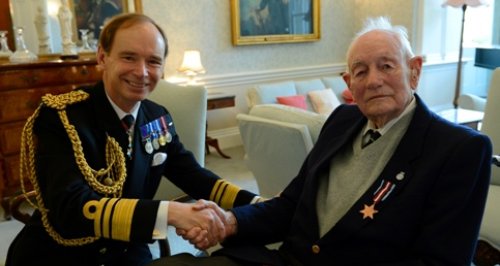 A 93-year-old Royal Navy veteran of the Second World War from Portsmouth has been given a medal for bravery.
Lieutenant Commander (Rtd) John Malbon of Southsea has been presented with his Arctic Star medal by the Second Sea Lord Admiral David Steel. He joined the Royal Navy Patrol Service in 1939 at the age of 19, before demobilising in 1947 and then joining the Royal Naval Reservists until 1985.

His first posting was on the HMS Evadne, an armed yacht requisitioned by the Royal Navy in 1939, which escorted convoys from West coast ports to convoy assembly areas in the South West approaches.

From there John went on to qualify as a gunnery officer, joining HMS Agamemmnon in 1941, and forming part of a mine-laying squadron based at Kyle. The ship was one of several responsible for laying anti-submarines mines to deter the threat of German U-boat attacks.

In 1943 he joined escort carrier HMS Campania as a Watchkeeping officer and survived five return journeys to the frozen wastes of Russian supply ports Archangel and Murmansk.

John said:
"It would take about a week to get there and we did five trips in total. I remember it being very chilly and ploughing through ice floes out in the sea as we got closer - there were people onboard who had to chip away at the ice on the deck.

"The Campania was my favourite ship, I served in her for a number of years. She was an aircraft carrier and we would operate Swordfish - it was a great experience. She could also do around 15 knots which was faster than any U-boat, we could outrun them if we needed to."

John was presented with his Arctic Star medal by Admiral Steel at his residence in Portsmouth Naval Base at a private ceremony.

The Arctic convoys saw Royal Navy and Merchant Navy seaman crossing the Atlantic to reach Russia to deliver valuable supplies to help with the war effort. Described by Winston Chruchill as 'the most dangerous journey in the world' due to the risk of U-boat pack attacks and the unlikelihood of survival in freezing seas - more than 3,000 sailors died to keep the supply lines open.

Adm Steel said:
"I am embarrassed and humbled because I have never done anything that could rival this achievement. What John and his colleagues did was extraordinary. When I met veterans of the Battle of the Atlantic in Liverpool I asked them what the most important aspect of those convoys was for them - and they all said teamwork.
"The modern Royal Navy has learnt that legacy and this medal represents what the veterans did back then and the resulting state of the Royal Navy today. None of us could be more proud of what John and his colleagues did during those wartime days amid the most terrible danger. It is my pleasure to present this medal."

John, who worked as a bank manager in his civilian life, also served on many other Royal Navy ships including a former HMS Illustrious, HMS Cochrane and HMS Tyne while on training days as a reservist.

In February it was announced that an Arctic Star medal would be produced for veterans of the Arctic convoys. The criteria is service of any length and the medal recognises the particular severity of the conditions experienced by those who served in the Arctic.
Whilst the primary intent is to recognise those who served on the Arctic Convoys, eligibility is extended to include all who served north of the Arctic Circle in World War Two. Those eligible will include members of all three Services as well as the Merchant Navy who crewed the ships taking the vital supplies to Russia.