Sailors Parade Through Portsmouth
27 June 2013, 16:27 | Updated: 27 June 2013, 16:34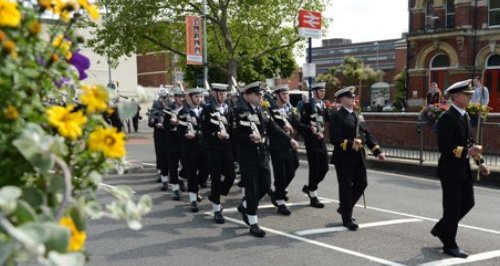 More than 120 sailors paraded through Portsmouth today (June 27th) as part of the Royal Navy's contribution to Armed Forces Day.
The parade, organised by the City Council, was led by the Portsmouth Royal Marines Band and involved sailors from Portsmouth-based ships and shore establishments in the region.

Troops marched from St John's Catholic Cathedral to the Guildhall Square via Edinburgh Road, Stanhope Road and Commercial Road.

Sailors from the Fareham training establishment HMS Collingwood formed the parade's guard of honour and were joined by five platoons comprising personnel from the Naval Base, Fleet Diving Squadron, HMS Edinburgh, Defence College of Policing and Guarding plus medics based at Queen Alexandra Hospital. The Army and RAF were also represented.

In the Guildhall Square Deputy Lord Lieutenant of Hampshire, Rear Admiral John Lang, took the salute and inspected the sailors with along with Second Sea Lord Vice Admiral David Steel.

The ceremony culminated with Vice Admiral Steel and Rear Admiral Lang then presenting 25 veterans with Arctic Star medals. The medals were created following a lengthy campaign to have the Arctic Convoy veterans rewarded for their bravery during World War 2. They kept vital supply chains to Russia open in freezing conditions, and survived German attacks.

Read more about their achievements here.

Commodore Jeremy Rigby, Portsmouth Naval Base Commander, also attended. He said:

"It was good to see so many members of the public in the Guildhall Square supporting their armed forces. There was great continuity in that we had cadets, serving personnel and veterans all on parade representing all generations."