Sneak Peak At Marwell Zoo's £8 million Tropical House
28 November 2017, 16:42 | Updated: 28 November 2017, 17:14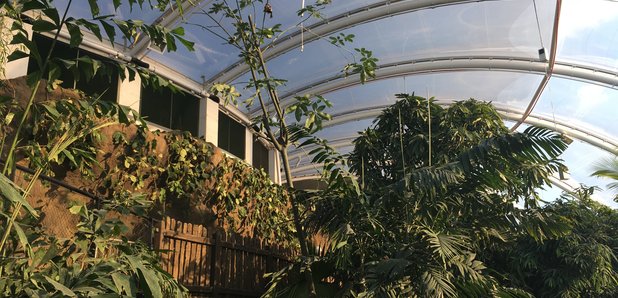 We've had a little look at Marwell Zoo's new £8 million Tropical House which is due to open in March.
It's the biggest investment Marwell Wildlife has ever made.
The new Tropical House will span across two floors and will be the size of two football pitches. The latest technology has been used to create the roof which will allow natural UV light to shine through, and it is 100 per cent recyclable.
You will be able to view the Tropical house from the top of the lush canopy, with a cascading waterfall right down to the forest floor below.
When it's opened to the public in March, it will be full of six different groups of animals, including free-flying birds and butterflies, a two-toed Sloth, Pygmy Marmosets, a Crocodile Monitor Lizards, Turtles and more than a thousand fish in the aquarium.
We were able to have a sneak peak at the Tropical House as it is now.
Marwell is leading the way in sustainability, converting animal waste and woodchip from the woodland management operation in to energy to heat the site, while the rainwater is recycled. It's part of Marwell's aim to reduce its carbon footprint and become carbon neutral by 2020.
The Tropical House will open to the public on the 26th March 2018.