South Coast Ready For England Semi-Final
11 July 2018, 13:08 | Updated: 11 July 2018, 13:10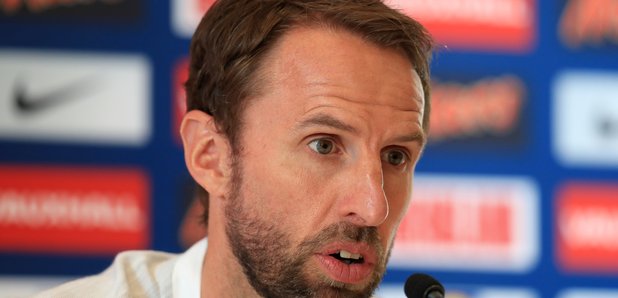 It's the biggest day in English football in three decades - a first World Cup semi final since 1990 - and the South Coast is getting excited!
A win over Croatia would take us to our first final since 1966. It'd be against France this Sunday after they beat Belgium 1-0 last night.
In Portsmouth, Iain-Paul Hutton tells us he spent thousands of pounds building a giant table football for his garden in Portsmouth to celebrate the World Cup!
Pupils at Fernhurst Junior School in Southsea will be allowed to go in an hour later tomorrow morning so they can stay up to watch - especially if it goes all the way to penalties...
Headteacher Roberta Kirby has told Heart she's allowing the children to start at 10am instead of 9, but the school will be open earlier if parents can't drop them off later.
The Columbine Building in Cowes has swapped the famous Union Jack on the front with an enormous England flag.
Elsewhere, Hampshire Police, Dorset Police and the South Central Ambulance Service (SCAS) are experiencinh an unprecedented rise in demand during the hot weather, combined with excitement of the World Cup.
Last Saturday, when England beat Sweden in the quarter-finals, Dorset Police experienced the highest number of 999 calls ever in a single 24-hour-period outside of New Year's Eve.
Strategic Alliance Commander for Operations, Chief Superintendent Glen Mayhew, said:
"Firstly I want to thank my staff and officers across the Alliance who have managed to meet this surge in demand across all areas of policing. Despite the pressure this undoubtedly brings, I am proud of their collective efforts and how they continue to deliver a great service to our public in the face of this unprecedented rise in demand.

"We understand that people are incredibly excited over England's progress in the World Cup and the vast majority are enjoying this safely and responsibly, but we urge that win or lose, people act responsibly and don't put themselves or other in danger by their actions.
"We are having an increase in demand due those who continue to sit behind the wheel of a car whilst under the influence, or drive the morning after a night out when still over the limit.
"We also ask that people to consider their level of drinking. These hot days leads to dehydration, coupled with people consuming an increased level alcohol has seen a rise in the number of assaults in our towns and cities, and increases the risk of domestic violence taking place in the home.
"We ask that people only call 999 in a genuine emergency. Please be assured that our alternative methods of police contact including the 101 email are still more than suitable and will receive continue to receive a timely response."
SCAS Assistant Director of Operations, Paul Jefferies, said:
"Due to the heatwave and England's quarter-final game on Saturday we saw a 32% increase in emergency 999 calls between 12.00 on 7 July and 06.00 on Sunday 8 July. Fortunately, the vast majority of fans celebrated in the right way in our region and we didn't see any damage to ambulance vehicles or property that colleagues elsewhere in the country had to deal with.
"However, it was still exceptionally busy and therefore these additional plans have been put in place so we are prepared for a similar expected increase. It is important that people understand that we will always prioritise our staff and resources to the most seriously ill or injured patients. People with less serious emergencies – our Category 3 or Category 4 patients who we would normally get to within two or three hours respectively – may experience some delays over and above these usual response times as a result.
"I hope people across our region enjoy the game, celebrate or commiserate with the same spirit and style Gareth Southgate has demonstrated so admirably so that we can make ensure everyone tonight – not just football – is coming home safely."