Southampton: 15 Kittens Abandoned In Suitcase
18 August 2014, 15:03 | Updated: 18 August 2014, 15:08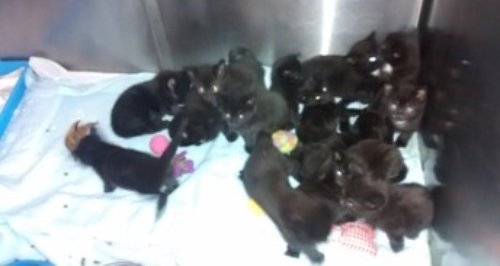 The RSPCA is appealing for information after a suitcase full of tiny kittens was dumped outside a PDSA animal hospital in Southampton on Friday (15 August).
The 15 kittens - all aged about just six weeks old - were spotted by a member of the public at about 8.30am, after someone pulled up in a car on Mount Pleasant Road and dumped the open suitcase before driving off.

The RSPCA is now appealing for information to find out who is responsible for abandoning them.

Inspector Penny Baker said:

"It isn't clear whether these kittens are all from the same litter or not, but it does seem like a lot.

"Because they are all black, it is difficult to tell whether they are all brothers and sisters. It is more likely that it is two litters dumped together.

"They are adorable kittens, but they are all teeming with fleas and worms. I've personally never dealt with an instance where so many have been dumped in one go like this.

"Sadly there is no CCTV and we haven't got a description of the person who dumped them. We are hoping the public can be our eyes and ears and share any relevant information which might help us track down who abandoned them."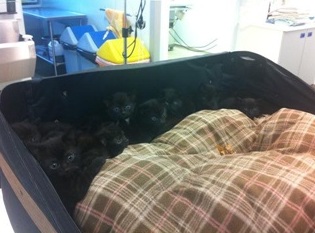 Inspector Baker said an adult cat - possibly the mother of some of the kittens - was spotted when the suitcase was dumped.

However, the cat escaped and ran off and could not be found despite an extensive search around the area.

Ten of the kittens are now being cared for by the RSPCA, while five others are currently at a private boarding establishment.

They are the latest kittens to be taken in by the RSPCA, which is already in the midst of a cat crisis, having taken in 14% more abandoned, sick and neglected cats this year compared to the same period in 2012.

Last year the RSPCA's inspectors helped 33,293 cats, which was up from 31,556 in 2012. Those figures are expected to be even higher this year as more than 20,000 have already been rescued so far in 2014.

Earlier this month five kittens were found dumped in a suitcase in Cardiff, while 70% of the cats in the RSPCA's care are typically black or black and white.

Anyone with any information about the dumped kittens in Southampton is asked to call the RSPCA inspector's appeal line and leave a message by calling 0300 123 8018.