Southampton Airport Creates World's Biggest Mo
30 October 2014, 11:31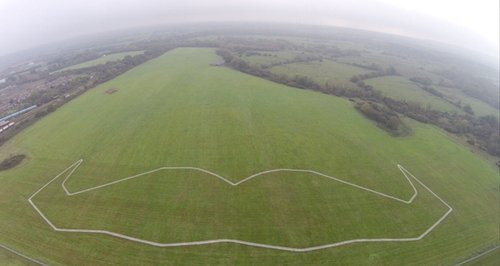 The world's biggest Mo has been unveiled at Southampton Airport, in support of Movember.
The painted moustache measures a massive 250m by 60m and is located on airport land, running parallel to the runway.

Inspired by the efforts of gents across the world who cultivate moustaches annually, the airport decided to create the giant moustache in its grounds to raise awareness of the charity.
Movember raises money to change the face of men's health, specifically prostate cancer, testicular cancer and men's mental health. During the month of November there are expected to be around 130,000 passengers using Southampton Airport and they will be able to look out for the giant Mo when they take off or come into land.

The Massive Mo is the length of five Olympic swimming pools (or seven and a half Dash 8 Q400s, a common aircraft that can be seen at Southampton Airport). The outline of the Mo is approximately 650 linear meters; which equates to the length of around 6 and a half football pitches. The Massive Mo was created with the help of the organisations that volunteered their time and materials, namely Pitchmark Ltd, Dyer & Butler, PH Warr, and UAViate.

In addition to the Massive Mo, a number of different teams at Southampton Airport will be embracing the month of Movember, challenging each other to raise the most money while perfecting their moustaches - including the Airport Fire Service, Swissport baggage handlers, Airside Operations, Flybe's cabin crew and Security.

Louise Neville, Southampton Airport's PR & Communications Executive, said:
"Men working at Southampton Airport have been supporting Movember for four years now, raising thousands of pounds for this worthwhile charity. They've dyed them crazy colours and had 'best mo' competitions - much to the delight of our passengers. This year we wanted to use our space and captive, airborne audience to really get behind Movember and do something special for the fantastic supporters who work here and travel through the airport."

Sarah Coghlan, UK Country Director for Movember, said:
"We are delighted with the support of Southampton Airport and are overwhelmed by their efforts in creating this Giant Mo. Southampton Airport are not only changing the view of passengers flying in and out of the Airport but they're doing their bit to help change the face of men's health'.'

For more information visit www.southamptonairport.com and movember.com.