Southampton Parade Of Sail
28 May 2017, 12:28 | Updated: 28 May 2017, 12:32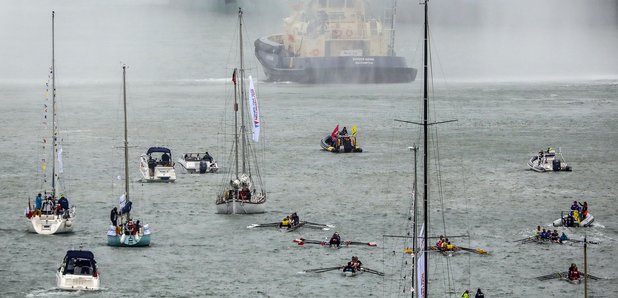 Over 100 yachts, RIBs and motorboats take part in parade of sail for first ever Southampton Sailing Week.
A spectacle unfolded on Southampton Water on Saturday.
At the front was was one of the world's most famous sailors, Sir Robin Knox-Johnston, in his boat Suhaili.
Also leading the way was a huge Svitzer tug, shooting plumes of water into the sky, and more than 100 watercraft, including motorboats, RIBs, yachts and even rowing boats.
There were some recognisable vessels in the fleet, including Geoff Holt MBE's Wetwheels, a specially adapted catamaran to help people with disabilities enjoy sailing and SS Shieldhall.
Chris Rees, organiser of Southampton Sailing Week, said: "It was the perfect way to celebrate the first ever Southampton Sailing Week and we're delighted so many people from far and wide brought their boats along to take part.
"The Solent is known as one of the best stretches of water in the UK for sailing and today's parade of sail helped us to show that to the world."
Sir Robin Knox-Johnston added: "It was an honour to lead the parade of sail and to see so many people out in their boats. There's nothing quite like getting out on the water and I hope Southampton Sailing Week will become a regular fixture in the Solent's sailing calendar."