Queen Names Cruise Ship Britannia In Southampton
10 March 2015, 19:05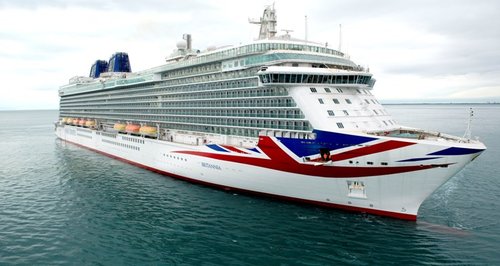 The Queen has officially named P&O's new cruise liner Britannia at a ceremony in Southampton.
Watched by hundreds of dignitaries and accompanied by the Duke of Edinburgh, the Queen initiated the traditional smashing of a bottle against the £473 million ship - on this occasion, a sparkling wine from the Wiston Estate Winery in West Sussex.

The royal couple gazed at the vessel adorned with a 308ft (94m) long version of the Union flag - thought to be the biggest ever.


After the naming ceremony, the Queen and Prince Philip embarked on a tour of the 1,082ft (330m) long ship which can carry 3,647 passengers and 1,350 crew over 18 decks.

The Queen met some of the celebrity chefs, including James Martin and Marco Pierre White, who will prepare meals on Britannia as well as sail on the vessel and host the Britannia's cookery classes.
Listen: Heart's Charlotte Wright Was At The Event
Last night, hundreds of guests attended a gala dinner on board and there was a big fireworks display over Southampton Docks.
Built in Italy, the new vessel has 15 passenger decks, 13 bars and 13 places to eat, a three-tier atrium, a 936-seater theatre, four swimming pools, and a multimillion-pound art collection.

There is also a spa, children's areas, a gym, a library, extensive shops and a sports arena.

The ship's master is Captain Paul Brown, who joined P&O Cruises in 1989.

Sailing from Southampton during the summer and operating from the Caribbean in the winter, Britannia will visit 57 ports in 31 countries in its first year, sailing more than 90,000 miles (144,841km).

Its maiden cruise, leaving Southampton on March 14, will be a 14-night western Mediterranean sailing - with port stops including Barcelona, Monte Carlo and Rome.

This will be the third P&O ship to be named Britannia. The first entered service in 1835 for P&O's predecessor company, the General Steam Navigation Co.

The second Britannia entered service in 1887 and was built in Greenock in Scotland.

In another link between the name Britannia and the Royal Family, Winston Churchill sailed on P&O's second Britannia in 1888. More than five decades later the great statesman was the first of the Queen's 12 prime ministers.

Unlike the other P&O Cruises vessels which are Bermudan-flagged, the new Britannia has been registered in Southampton and bears the name of the Hampshire city on its structure.