Southampton Zebras Raise £87k For Conservation
19 October 2016, 12:13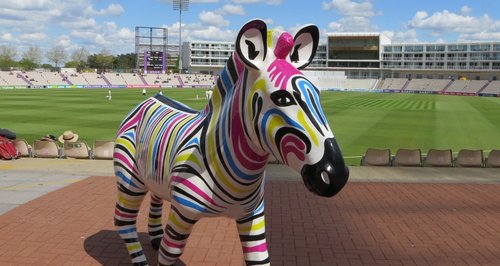 £87,550 has been raised for conservation work, from an auction of the Zany Zebras statues which spent the summer around Southampton.
48 colourful sculptures went under the hammer in aid of Marwell Zoo near Winchester.
The designs were part of Marwell's Zany Zebras public art trail, which saw 197 sculptures displayed across Southampton and at Marwell Zoo, near Winchester.
The highest bid was for 'Snappy' by the artist Michelle Heron. The successful bidders were the sculpture's own sponsors, 'Denplan' who secured the shark-themed zebra with a bid of £4,000.
Other top selling zebras were 'Zeeberry' by Deven Bhurke, which sold to its sponsors 'Pickwell Farm' for £3,500.
Marwell Wildlife's flagship 'poster boy' sculpture, 'Gilbert', went to Gilbert Aviation with a winning bid of £3,250.
Thousands of people visited a farewell exhibition of the sculptures at the Ageas Bowl in West End at the weekend.
Marwell's Zany Zebras Project Manager Kirstie Mathieson said the amount raised was "amazing". She said:
"I am so grateful for all the many generous bids we received tonight. It follows a hugely successful summer of fun in the city and at Marwell Zoo.
"These much-loved sculptures are now making their way to new homes where they'll continue to put smiles on people's faces.
"The money raised will help support Marwell's work with Grevy's zebra and other wildlife in northern Kenya, enabling them to train local conservation managers and expand critical support for community based conservation initiatives."