Teenager Locked Up For Totton School Stabbing
25 October 2018, 17:17 | Updated: 25 October 2018, 17:18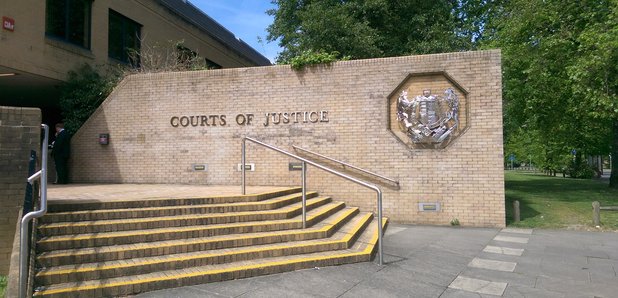 A teenage boy who stabbed his ex-girlfriend in a Hampshire school dining hall after sending her messages threatening to kill her has been locked up for four years.
The defendant, who was 15 at the time of the incident at Testwood Sports College in Totton pleaded guilty to wounding with intent to cause grievous bodily harm and possessing an offensive weapon.
Nick Tucker, prosecuting, told Southampton Crown Court that the boy had walked up to the girl, pulled a 4in (10cm) kitchen knife from his sleeve and stabbed her in the abdomen on March 26.
Fellow pupils described the victim "slumping to the ground with blood coming from the wound".
The boy then walked out of the school and was arrested nearby by police, who found the knife and a hammer in his rucksack.
Mr Tucker said: "When asked what the hammer was for, the defendant told the officer 'You are a smart guy, you know what it's for'."
The court heard that, a month before the incident, the defendant, who is now 16, had threatened his girlfriend, who he had recently split up with, using a knife, and sent a number of text messages threatening to kill her.
Mr Tucker said the teenager wrote: "I already told you just in case I change my mind and decided to kill you, gloves means no prints."
In other messages he wrote that he could "easily manipulate" her and he also said: "I could easily go to an insane asylum with other psychos and have a blast. Is that what you want?"
Mr Tucker said the victim had to miss two weeks of school in the lead-up to her GCSE exams and the attack had put a "strain on her family and social life".
He added: "Although she is deeply distressed, she hopes the defendant gets the help he clearly needs."
Andrew Houston, defending, said: "He has been away from his family for a number of months and that is undoubtedly difficult for a young man."
Judge Christopher Parker QC said a psychiatric report showed the defendant did not have a "psychotic illness" but he had mental health problems and had been diagnosed as having "autistic spectrum disorder demonstrating a reported lack of empathy or remorse".
He added that the defendant's mental health might be a form of post-traumatic stress order caused by early childhood trauma and recommended he be treated in hospital while in detention.
He imposed an extended sentence on the boy, ordering him to serve four years in custody with an extended period of five years on licence.
He told him: "You are plainly a dangerous offender at the moment and pose a significant threat of serious harm to other members of the public from this untreated mental disorder."
Praising the victim, the judge said: "She has been remarkably stoical and has borne up under the strain of what must have been the most appalling and shocking incident with enormous fortitude."