Thousands Head To Isle Of Wight For Bestival
11 September 2016, 11:29 | Updated: 11 September 2016, 12:53
More than 50-thousand people on the Isle of Wight this weekend for Bestival.
It is the last big festival of the summer, which is being held for the 13th consecutive year.
Police Helicopter NPAS Bournemouth captured this picture of Bestival which lit up the island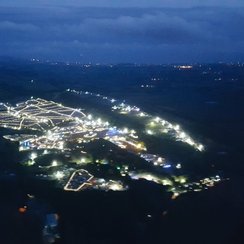 One of the quirkier events on the festival calendar, Bestival is known for its fancy dress parade and colourful stages which this year take the theme of "The Future".
Organiser Rob da Bank said: "This year Bestival is all about jetting into the future, so we've got loads of acts playing that we think will be future stars on this planet in years to come - from Izzy Bizu, Mura Masa and Tourist through to acts well on their way like Bastille, Skepta and Years & Years.
"We've got amazing headliners from The Cure, Major Lazer and Sean Paul and Wiz Khalifa on the main stage and Fatboy Slim, Carl Cox and Diplo on the Spaceport.
"There's loads of off-the-wall action all around the site to keep everyone on their toes and the sun is shining. We can't wait to open the gates and get the party started."
The Cure lead singer Robert Smith said he was excited to return to Bestival after headlining in 2011.
He said: "We are very, very happy to be back at our favourite festival. We can't wait to play a special set to show the future is what it used to be."
Other acts during the weekend include Hot Chip, Animal Collective, the Human League, Wolf Alice and Kitty, Daisy & Lewis.
Last year the event at Robin Hill Country Park won 'Best Major Festival' at the UK Festival Awards.
Safe And Secure Event
Hampshire and Isle of Wight Police will be at the event. Superintendent Andy Houghton said: "Our priority is to make Bestival a safe event, working alongside the event organisers and other partners.
"We have been faced with some challenges, such as bad weather, over the years, but I'm confident that the Bestival organisers are committed to running a safe and secure event, that the whole family can enjoy.
"We have a full policing operation on site throughout the event including our mobile police office where festival-goers can speak to officers and receive crime prevention advice and kit such as our 'sockies' to help you keep your valuables safe from would-be thieves."
Police, Isle of Wight Council, Island Roads, and Bestival's traffic management organisers aim to minimise traffic congestion on the roads surrounding the site, but traffic is expected to be heavy.