Tim Peake Back in Home Town Of Chichester
28 January 2017, 07:24 | Updated: 28 January 2017, 11:43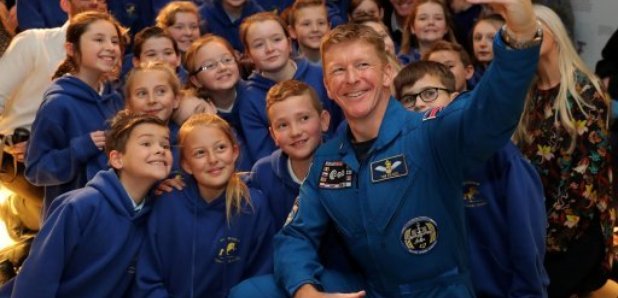 Tim Peake makes surprise visit to space exhibition at Novium Museum meeting school children from his former schools.
During the visit to the Novium Museum, Maj Peake held a question and answer session with pupils from his former schools.
He said: ``It's wonderful to come back here to Chichester, my home city, to meet some of the schoolchildren from both Westbourne Primary School and Chichester High School, where I went to, and be able to talk to them about my Principia mission and answer their questions, so a very special day for me.''
The questions asked ranged from which was his favourite button to press on the ISS to how to go to the toilet in a spacesuit and his funniest and scariest moments.
Maj Peake said he used a nappy when he carried out the spacewalk and added: ``You can't possibly not go to the loo in 12 hours and you have to stay hydrated, hence you have to wear a nappy.''
He said the funniest moment was when US astronaut Scott Kelly surprised colleague Tim Kopra while wearing a gorilla suit he had taken on board.
Major Tim Peake has spoken of his excitement at returning to space and helping lay the groundwork for a moon base and future missions to Mars.
``It's a hugely exciting time for the European Space Agency.
``We obviously have a very active programme and not just myself but all of my classmates have an opportunity for a second mission between now and 2024 which is the life of the ISS, so very happy about that prospect.
``The great thing about the space station is that it is continually evolving, the science programme never stops, and so there is always new science to be done and it will be great to be involved in that new phase.
``As we come towards the end of the space station we are starting to look at what happens next, next stages of human exploration, that is going to deep space habitats, it's going back to the moon in terms of a permanently manned base there and also a stepping stone on to Mars.
``So there are some really exciting times.''
During his 186 days in space, the former helicopter test pilot and father-of-two, from Westbourne, West Sussex, participated in more than 250 scientific experiments.