Titanic Photo Sells For £12,500
23 April 2017, 11:05 | Updated: 23 April 2017, 12:55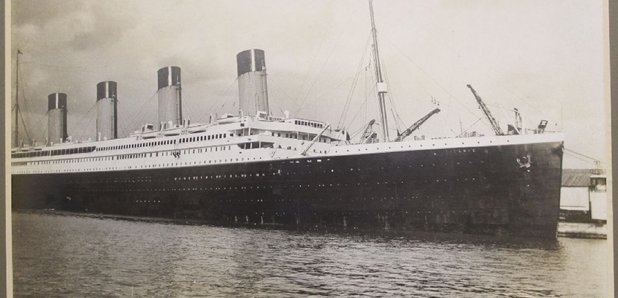 A photo of the Titanic, taken in Southampton the day before she left, sold for £12,500 at auction.
The large, sepia image of the liner was bought in a Parisian flea market more than 40 years ago - and shows workmen doing some last finishing touches.
It's going under the hammer in Wiltshire - along with items like a fur coat worn by a stewardess.
The photo is undated but was probably taken on April 9 in 1912, the day before the Titanic left Southampton for her maiden voyage to New York.
Five days later, the trip ended in tragedy when the vessel struck an iceberg and sank, claiming the lives of more than 1,500 passengers and crew.
Auctioneer Andrew Aldridge, of Henry Aldridge and Son, described the image as ``one of the finest photographs of the Titanic we have had the privilege of auctioning''.
``The clarity and detail are astonishing with the image capturing abseiling cleaning windows and even a workman on a gantry touching up the paint work on the hull, preparing the final finishing touches before she left Southampton for the first and last time,'' he said.
``The provenance is remarkable as it was purchased in a Parisian flea market over 40 years ago alongside some other marine related images.
``What makes it so remarkable is the level of detail, it is truly incredible and certainly the most detailed I have seen.''
The picture, measuring 18 inches by 11 inches, sold for £12,500 at auction at Henry Aldridge and Son in Devizes, Wiltshire.
A fur worn by stewardess Mabel Bennett, who wore the heavy coat for protection from the cold as she boarded a lifeboat,sold for £150,000

Mabel Bennett threw on the heavy coat to protect herself from the cold before being rescued by a lifeboat as the stricken liner went down after hitting an iceberg on her maiden voyage on April 14 1912.
She wore the coat while aboard the Carpathia, which rescued many of the Titanic's passengers, and also while on the Red Star Line SS Lapland, used by the Titanic's owner White Star Line to transport crew back to England after the tragedy.
Ms Bennett lived to 95, making her one of the longest living female Titanic crew members.
The coat remained in her family for nearly 90 years before being sold to Wiltshire auctioneers Henry Aldridge and Son in 1999, which loaned it to a museum in the US.
A letter from her great niece accompanying the coat and authenticating its provenance says: ``On her rescue from the Titanic she was in her nightdress and this coat was the first garment she snatched for warmth.
``My aunt gave me the coat in the early 60s, because of her advancing years she found the weight of the coat too much for her.''
The coat fetched #150,000 when it went under the hammer on Saturday, double the #50,000-#80,000 estimate.
(Pictures: Henry Aldridge and Son)