Upturned Speed Boat Off Sandbanks
27 August 2017, 09:37 | Updated: 27 August 2017, 10:32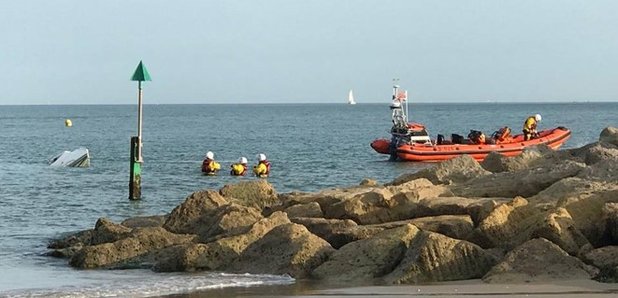 On a blistering bank holiday afternoon, Poole Lifeboat was tasked by Solent Coastguard at 15.10 (Saturday August 26) to a report of a 20ft speed boat reported to be sinking off Sandbanks.
The vessel with 4 people on-board had got into difficulty when the lifeboat arrived on scene at 15:20 there was debris in the water and the casualties had safely made their way ashore, two lifeboat crew went ashore to check that the occupants were all okay and none the worse for their escapade, meanwhile the other lifeboat crew and RNLI Lifeguards recovered some of the debris.
The lifeboat crew, that were ashore spoke with the owners as there was an option to re float the vessel or pull it clear onto the beach but the vessel was now in the hands of the casualties insurance company so was left in situ awaiting further instruction from the insurance company.
(pictures from Poole Lifeboat crews)

As everyone was okay the lifeboat returned back to station, after refuelling it was ready for service by 17:00 but then a call came through from the Coastguard to re-task the crew to recover the vessel.

The Coastguard re tasked the lifeboat to recover the stricken vessel as it was a hazard to navigation, the casualties' insurance company could not contract a salvage team, to move it until after the bank holiday weekend.
When the lifeboat arrived back on scene with the assistance of Poole mobile Coastguard unit they dragged it up the beach and then re-floated the vessel, the crew then attached a tow line and brought it back to Baiter Slipway where they passed it back to the casualties who were standing by.

The crew then returned to station and were ready for service by 20:45.