Warnings Over Palm Oil Washed Up Along South Coast
19 December 2018, 15:32 | Updated: 19 December 2018, 15:41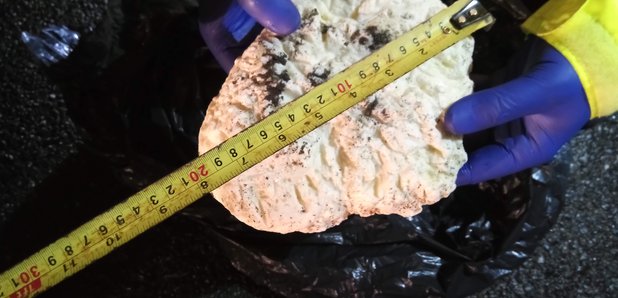 Dogowners are being warned to keep their pets away from lumps of palm oil which have been washing up along the south coast.

It can be dangerous if they eat the white substance - it's been spotted this week at Poole, Selsey Bill and on the Isle of Wight.
While palm oil is not poisonous to dogs, it does have a laxative effect and, if eaten, can cause sickness, diarrhoea, dehydration and, in extreme cases, pancreatitis. Some dogs have become seriously ill after ingesting palm oil.
A few days ago, a Poole Coastguard spokesman tweeted:
"Warning, large chunk of palm oil washed-up on Sandbanks beach.
"Moved further up the beach for safety and coastguard tape wrapped around it.
"If you have a dog and are walking in the area please stay clear as it can be harmful to animals."
The oil is thought to have come from a ship.
Dog owners , and walkers are being urged to take care on Island beach as large lumps of Palm Oil are being washed ashore . This lump was found at Sandown tonight .
Palm Oil can be dangerous even deadly if eaten by your dog. Other posts on Facebook report other lumps on beaches along the south of The Island , further along the coast palm oil has been washing up between Poole and Selsey Bill
(photo credit: Martin Groom)