When The Duchess Met The Dame On The Isle Of Wight
24 July 2018, 16:27 | Updated: 24 July 2018, 16:32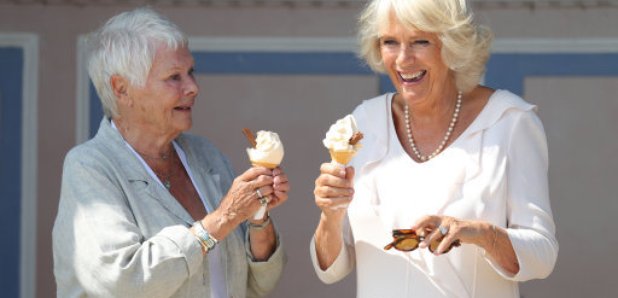 The Duchess of Cornwall and Dame Judi Dench found the perfect way to keep cool on a hot day - enjoying an ice cream.

Camilla and the actress could not resist the sweet treats when they met on the Isle of Wight, where they visited Queen Victoria's former home, Osborne House.
Dame Judi, who is patron of the Friends of Osborne House and has played Victoria in a number of films, welcomed the duchess to the island after she arrived at the Queen's private beach.
The actress showed Camilla the house's restored Durbar Room, which was one of the locations for Victoria And Abdul, a film starring Dame Judi in the title role.
Osborne House was purchased by Victoria and Prince Albert in 1845 and was one of the Queen's favourite family homes - she once said: "It is impossible to imagine a prettier spot."
After her death in 1901, the house was given to the state and parts of the pavilion first opened to the public as early as 1904.
It is now cared for by English Heritage and is open to the public year round.
Afterwards Camilla named Red Funnel's new ferry, Red Jet 7, in Cowes.